CDs on MT Undertainment
Although to this day DWM members would probably say that they prefer vinyl, they also embraced many other recorded mediums, including cassettes, MP3s, reel to reels, and of course, CDs. At first, DWM released both vinyl and CDs on Musical Tragedies, until Marginal Talent was formed for experimental music, and, later, both MissmanagemenT and Mirran Threat specifically for DWM. But until then, DWM still managed a few CD releases on Musical Tragedies, a label that is today mostly known for the early releases of bands such as JBO and Donald Dark. Today, most DWM titles are released on Marginal Talent.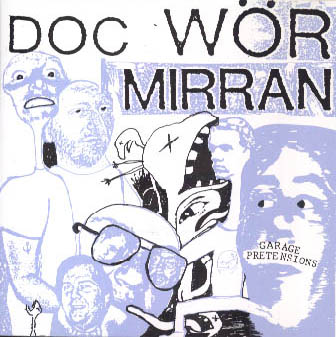 Artist: Doc Wör Mirran
Title: Garage Pretensions
Label: Musical Tragedies Format: CD/Vinyl 7" Catalog #: Tragedy When I'm Sixty Four (MT-192) Release Date: July 5th, 1993
A milestone for DWM, this EP was their first ever CD release, and also the only release ever to come out on two different formats. In keeping with their tradition of featuring famous friends, this release includes the talents of two members of M. Walking On The Water, Markus Jansen and Axel Ruhland, as well as the recorded debut of the two SubPop Records owners Bruce Pavitt and Jonathan Poneman (reading a poem for Blake!). Also, on the vinyl version is a cartoon drawing of "Fat Freddy" by none other than Gilbert Shelton and Rip Off Press! Andy Martin of the Apostles/Unit drew the back comic. Other input from Joseph B. Raimond, Bernard H. Worrick, Peter Schuster, Ralf Lexis, Denise Kusiak, Andropovski, Rich Ferguson, Emil Beaulieau, Adrian Gormley, John Eberly, Bob Bolish, Frank Abendroth, Allen Shain, Artur Bandalan and .mario. Both formats include a 12 page booklet. The CD has a blue and black cover, the vinyl a light green and black cover and is pressed on yellow and blue striped vinyl. Some of the singles were prepared with special hand copied covers, some of which were copied onto gold sticker paper and others onto grey paper, and yet others have been copied backwards !500 singles pressed and 700 CDs.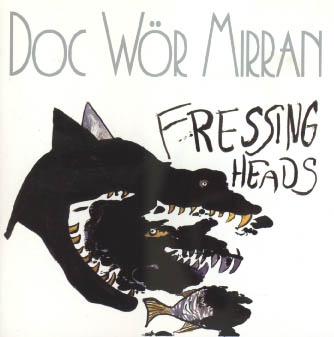 Artist: Doc Wör Mirran
Title: Fressing Heads
Label: Musical Tragedies Format: CD Catalog #: Sixty Second Plopped Tragedy (MT-241) Release Date: February 26th, 1994
Some bands tour to support a new release. Not DWM! They exhibit paintings for a new release! This CD was released to coincide with a showing of paintings and drawings from the "Plop Art" series of works by Joseph B. Raimond, shown at Galerie Nord in Nuernberg, from Febraury 26th through March 24th, 1994. All cover art from the CD comes from this series of works and were part of the exhibition. Full color cover throughout. A much better mix of one song from the Garage Pretensions project is again released here, and features Axel Ruhland and Mike Pelzo of M. Walking On The Water. Other outstanding performances by John Griffith as well as Antje Haensel from the Merlons. One track, recorded with John Mervin in 1983 in San Francisco, and released on the very first ever MT release "Numb Tongue, No Taste" is rereleased here with a new vocal track. More song and vocal oriented than many DWM releases, which usually tend to be more experimental, instrumental affairs, this was the first major release recorded and released after the departure of Bernard H. Worrick. Other performances included Joseph B. Raimond, Ralf Lexis, Peter Schuster, Andropovski, Theodor T. ThrongoMob, Frank Abendroth, Oliver Van Essenberg, Peter Kern and Michael Shulz-Pernice. A limited edition of 50 copies was produced that included a second non playable, hand painted and numbered CD. An interesting footnote: several copies were misspressed by the manufacturer with Reggae music instead!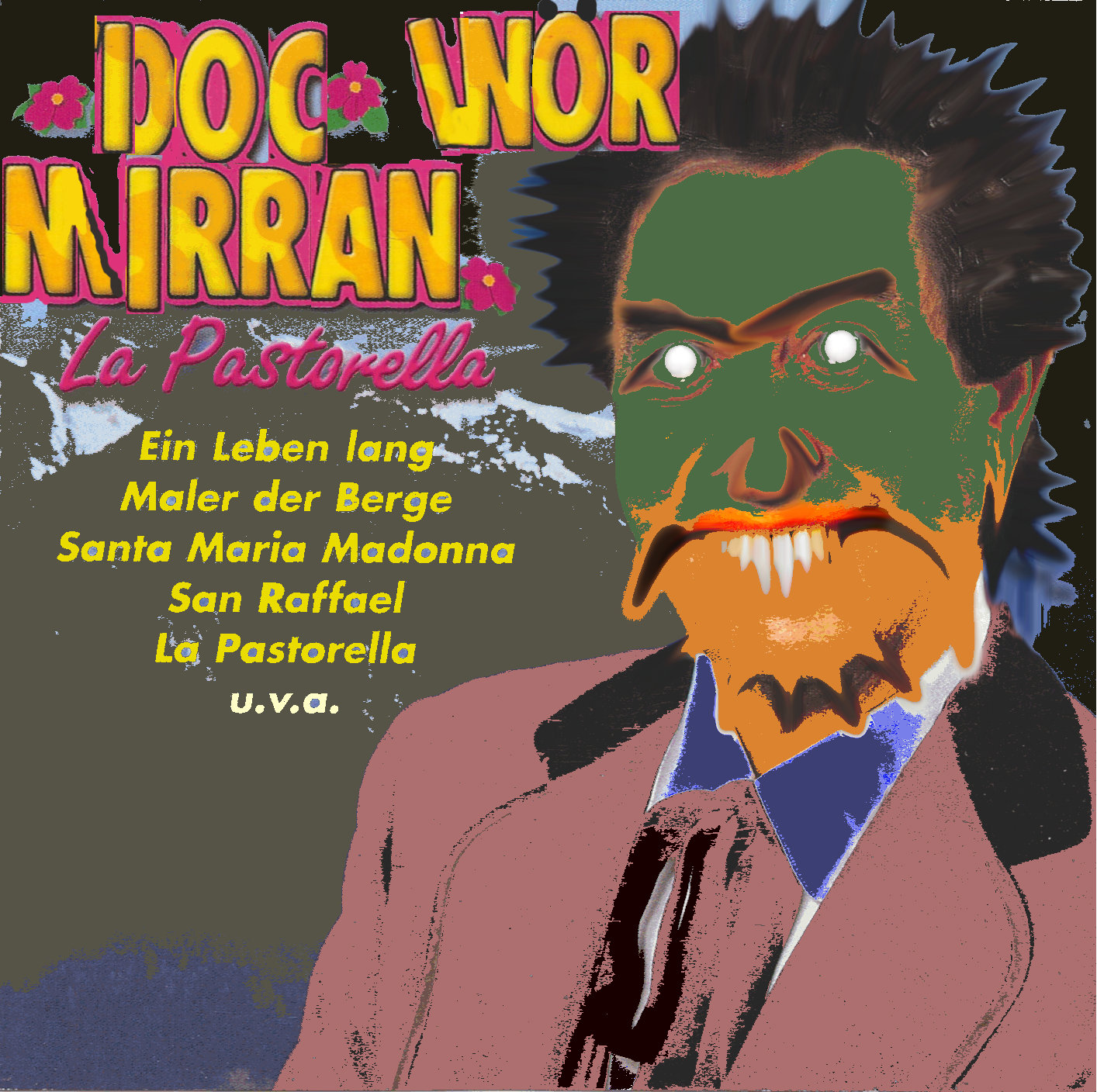 Artist: Doc Wör Mirran
Title: La Pastorella
Label: Marginal Talent Format: CD Catalog #: Talent Forty (MT-648) Release Date: September 4th, 2022
Forget "Bastard Pop"! Long live "Bastard Plop". The idea is to have each DWM member play and record their instrument on songs that they have never heard before. They also do not know what the other DWM members have recorded. Once everyone has recorded their part, the original song is erased, and the individual DWM tracks then mixed. The result is a fascinating, disjointed and odd sounding group of songs where one can still hear the arrangements and the song structure, and sometimes even the original melody, but in a very obtuse and unexpected way. In this case, our victim was Vico Torriani and his "Las Pastorella" collection of German "Schlager" songs. Could this be the start of a whole new way of composing and creating music? How is that for a threat! Recorded and mixed from December 2021 to March 2022 in DWM's very own Two Car Garage Studios in Fürth Germany and featuring the dubious talents of Stefan Schweiger, Adrian Gormley, Joseph B. Raimond and Michael Wurzer.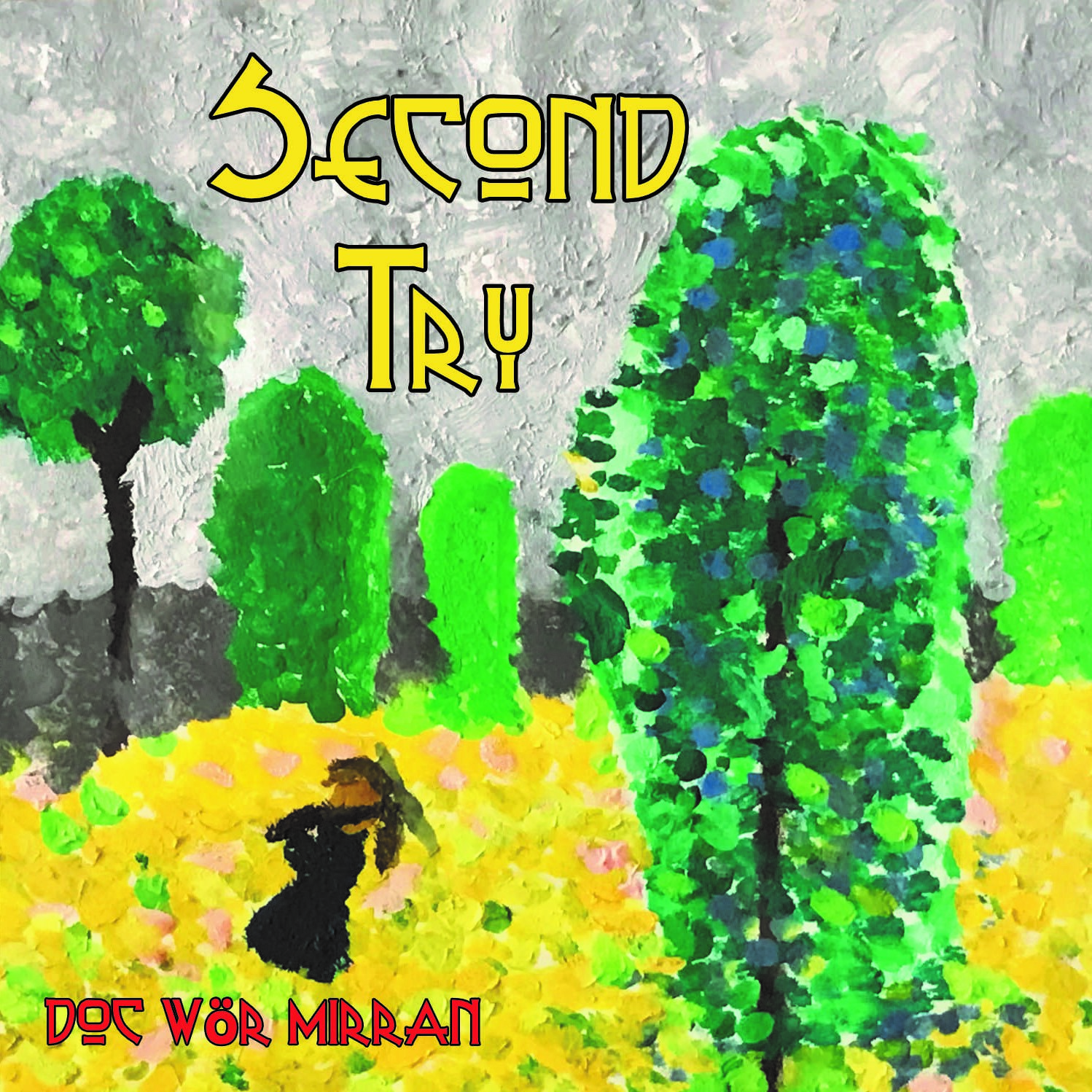 Artist: Doc Wör Mirran
Title: Second Try
Label: Marginal Talent Format: CD Catalog #: Talent Forty-Four (MT-650) Release Date: September 30th, 2022
Contrary to most compilations which compile the greatest hits of an artist, "Second Try" is a compilation that highlights the drumming talents of DWM's drummer Stefan Schweiger. He compiled, edited and partially remixed this album himself of his favourite tracks, and added new sounds and samples to make some of the tracks quite different from the "normal versions". Stefan also contributed the cover and label art for this, one of DWM's more guitar and rock oriented releases. Besides Stefan, also taking part are Adrian Gormley, Michael Wurzer, Joseph B. Raimond, Alex Kammerer and Leon Abendroth.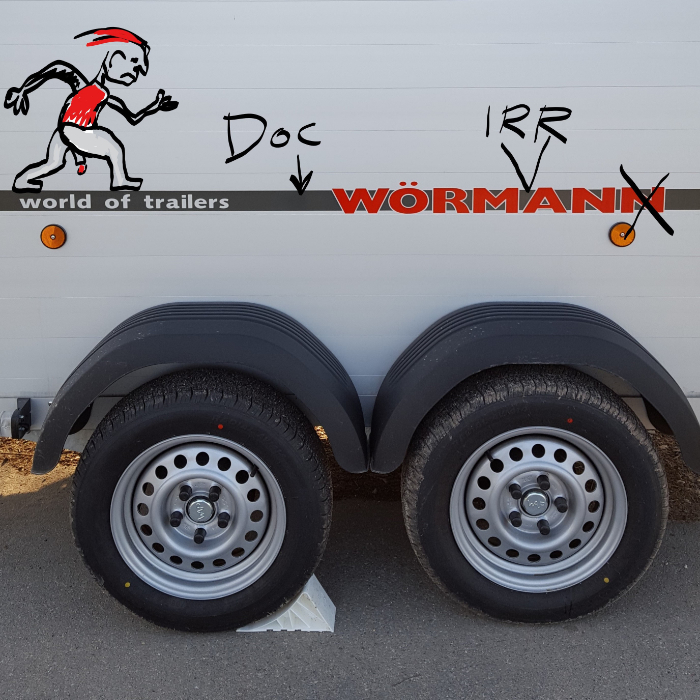 Artist: Doc Wör Mirran
Title: World of Trailers
Label: Marginal Talent Format: CD Catalog #: Talent Forty-Seven (MT-653) Release Date: March 30th, 2023
While living in San Francisco in the early to mid 1980s, Joseph B. Raimond had the chance to work with an old Buchla modular synthesizer, some of the results of which ended up on the first DWM self-titled cassette, released in 1984 on eMpTy Records. Ever since, he has wanted to continue these experiments, and got the chance almost forty years later once many of these old systems had been recreated digitally and offered through the internet. One of the more abstract DWM releases, this entire, roughly one hour long composition is the result; a composition of random, modular synthesiser sounds. Collage art on the back cover by Michael Wurzer and Simone Seng, insert art by Adrian Gormley.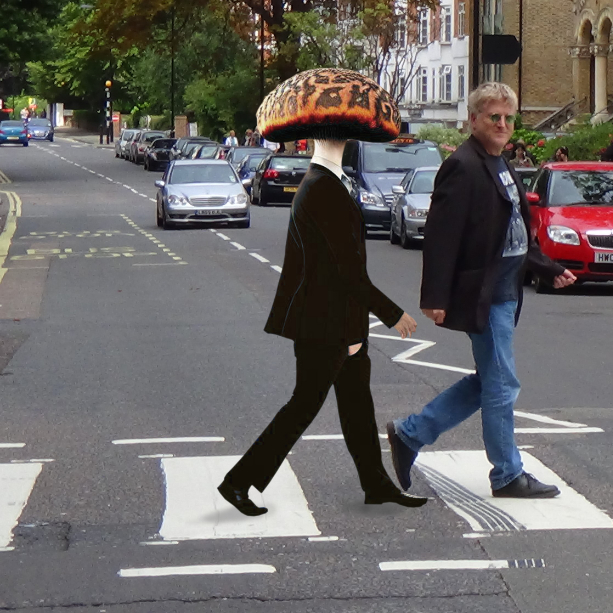 Artist: Doc Wör Mirran
Title: Abbey Toad
Label: Marginal Talent Format: CD Catalog #: Talent Fifty (MT-657) Release Date: July 9th, 2023
Many years ago, DWM recorded their versions of three Beatle's tracks for a 7" boxset tribute to the Beatles which unfortunately was never released. Many years later, DWM was given the opportunity to license an early Beatles track, which resulted in our "Cry For A Shadow" split 7" vinyk single with the Beatles, which was released in 2017. The other two tracks, "Free As A Bird" and "Tomorrow Never Knows" are now available as well on this two song mini-CD. Features cover photography by Cedric Raimond of his father Joseph B. Raimond as he crosses, what else, Abbey Road. More photoediting as well by our long-time DWM cohort Ralf Lexis, who, besides Joseph, is also prominently featured on the musical part of this release.