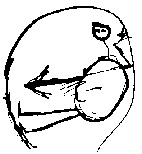 EBUs Music
DWM has had a very close relationship with EBUs Music for a very long time, especially considering that the first DWM release on this fine label out of Frankfurt came out more than a quarter century ago! Run by our friend Mr. EBU, they are more than just a label though, as Mr. EBU is an established artist as well, and it is well worth the trouble to dig though his considerable catalog to discover real gems among the releases on the label EBUs Music as well as from Mr. EBU himself.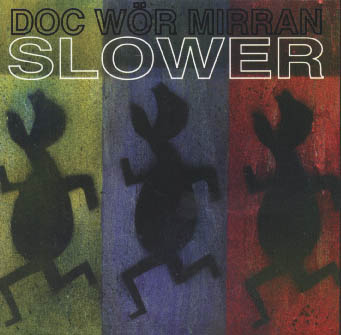 Artist: Doc Wör Mirran
Title: Slower
Label: EBUs Music Format: CD Catalog #: EM047 Release Date: July 16th, 1996
The second in the three part series, with again three long tracks (#'s 7, 8 & 10), one of which is a re- recording and mixing of the first Slow track on the LP. Features performances by Joseph B. Raimond, Birgit Raimond, Peter Schuster, Ralf Lexis, Denise & Deanne Kusiak, Mario, Michael Wurzer, John Eberly, Oliver Van Essenberg, Frank Abendroth, Stefan Schmidt and Adrian Gormley. Wonderful full color cover throughout.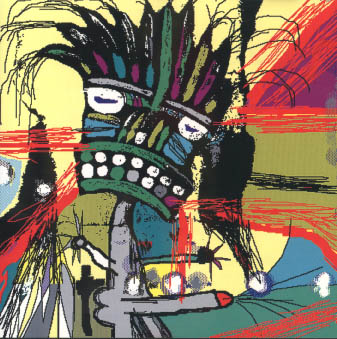 Artist: Doc Wör Mirran
Title: Machines Don't Bleed
Label: Marginal Talent, EBUS Music, Moloko, Yucca Tree Format: CD Catalog #: MT-324, EM 049, Plus 002, YTRDWMONE Release Date: December 10th, 1997
The second of the two, and the first CD. "Machines Don't Bleed", like many DWM later projects, is a very complex project, stretching over several years, consisting of a series of paintings, a series of songs, an exhibition, and some special packaging. The concept behind the idea of Machines Don't Bleed is that machines are clean, reliable, can't get weird diseases, and if taken care of properly, can work forever. They don't excrete strange fluids, can't feel pain or loneliness, and have no messy organs to be replaced. Musically, all the songs started out as computer compositions, which were then transferred to a normal analog deck, where further analog recordings were added. Similarly, the accompanying series of pictures started out as normal paintings, which were then scanned into a computer and further changed. The recording took many years to complete, with the final mixing taking place at Two Car Garage Studios in Novermber 1997. This recording features Joseph B. Raimond, Peter Schuster, Jeandra Raimond, Ralf Lexis, Andropovski, Manfred Schumann, John Eberly, Laurent Gabiot, Dad Raimond, Theodor T. ThrongoMob, Kid G., as well as one of the very last performances ever of Bernard H. Worrick. Full color cover and tray from the painting series, which were painted by Joseph B. Raimond, Stefan Schmidt and Jeandra Raimond. Also, a collection of all the paintings was released as a DWM CD-R in our Handmade series (MT-441).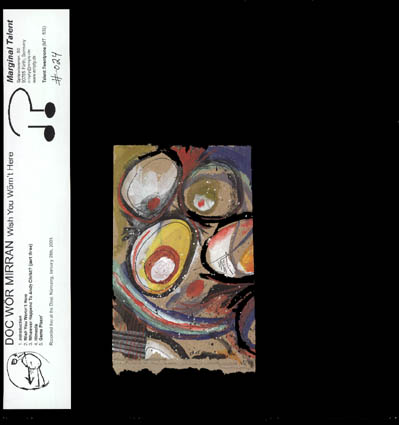 Artist: Doc Wör Mirran / Mr. Ebu
Title: Wish Your Wörn't Here
Label: Marginal Talent / EBUS Music Format: Vinyl LP Catalog #: Talent Twentyone (MT-532)/EM066 Release Date: February 10th, 2006
This is a vinyl only album of the concert that DWM performed together with Mr. Ebu in Nuernberg, Germany on January 26th, 2003. Much more experimental than most material by these artists, this album features a handmade cover and is limited to 200, numbered copies. Mr. Ebu performs here as a solo act, one very long track divided into several subsections that is almost hypnotic. DWM here is a two-piece with original members Joseph B. Raimond and Adrian Gormley, performing live versions of such DWM greats as "Wish You Weren't Here" and "Himeola".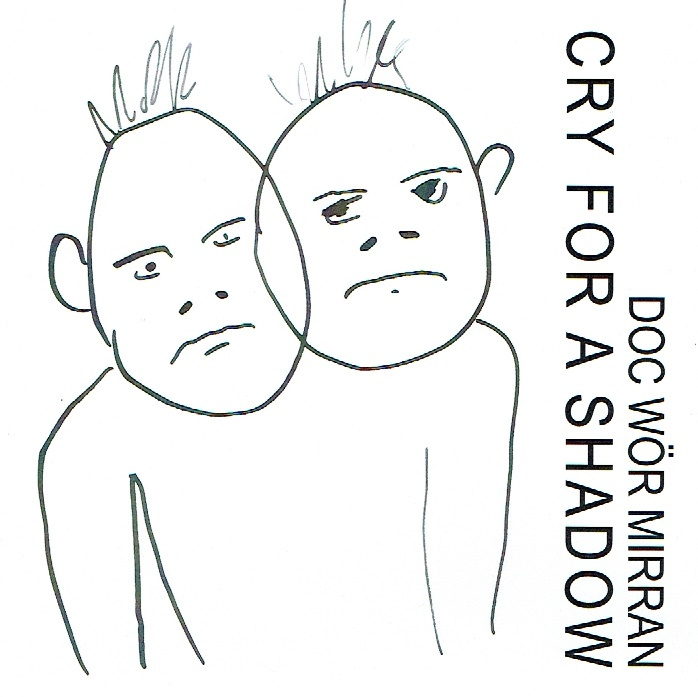 Artist: Doc Wör Mirran / The Beatles
Title: Cry For A Shadow
Label: Empty Records Europe Format: Vinyl 7" Catalog #: MT-565 Release Date: May 14th, 2017
Hard to imagine that it would be possible to release a split single with the Beatles, but this offficial release has a very long, dark story. It started at the end of the 90s, when our friends over at Moloko + Records asked DWM to submit a Beatles cover song for their planned Bealtes tribute 7" box set. Not knowing which song to cover, DWM's Joseph B. Raimond and Ralf Lexis went ahead and recorded three, "Cry For A Shadow" from very early in the Beatle's career, "Tomorrow Never Knows" from the height of Beatlemania, as well as "Free As A Bird", one of their two bonus songs for their lengthy Anthology series and one of the last Bealtes tracks that will ever be recorded. Moloko + liked all three tracks and planned to include them on their box set, but then that was the last DWM ever heard about the project, and it was never released. Since then, these tracks have been refered to as DWM's "Abbey Toad" recordings. Fast forward to around 2010, and MT Undertainment gets offered the orignal Beatle's recording of "Cry For A Shadow" to officially license. Originally planned to be a sawblade shaped single in the Musical Tragedies series of sawblade shaped vinyl records, the other artist was planned to be the Tater Totz, the punk supergroup led by Pat Fear of White Flag, and featuring members of Sonic Youth, Red Cross, among many others. From this point on, bad luck and tragedy kept this release from ever seeing the light of day, as Pat's health problems delayed the recording of the Tater Totz for years. Then, finally recorded, Pat died suddenly weeks before mixing the final track. MT Undertainment, still planning to use the wonderful cover art Past organised for the release as well as a rough mix of the track that Pat sent just before his death, then set about trying to release the single together with Munster Records of Spain, but after sending them the tracks for mastering, Munster pulled out of the project without comment. A crowdfunding effort produced very little capital to have the record pressed, and neither Sonic Youth nor Red Cross even answered emails asking them to help find support for this project. The final blow came after the company that normally shapes the records quadrupled the price of shaping the records frome one day to the next. At this point, MT Undertainment, remembering the three lost DWM "Abbey Toad" tracks, realized the opportunity presented in releasing a split single of the original Beatles recordings of "Cry For A Shadow" with the DWM cover version of the same track on the flipside. DWM then wrote to Klaus Voormann, the orignal artist who designed the Beatles "Revolver" album cover, and he agreed to let supply the cover art for the Beatle's side of the single. Two limited editions of the release are available. Our friends over at EBÚ's Music have co-released a limited, numbered edition of 50 copies of this record in a rice-paper, hand stamped sleeve including extra graphic artwork by Joseph B. Raimond. Also, .kolektiv23. have designed a limited edition of 23 numbered copies of the vinyl single packaged in a black bubble bag with an additional cassette of the two tracks plus extra, signed artwork by Joseph B. Raimond. In total, 300 records were pressed on black vinyl.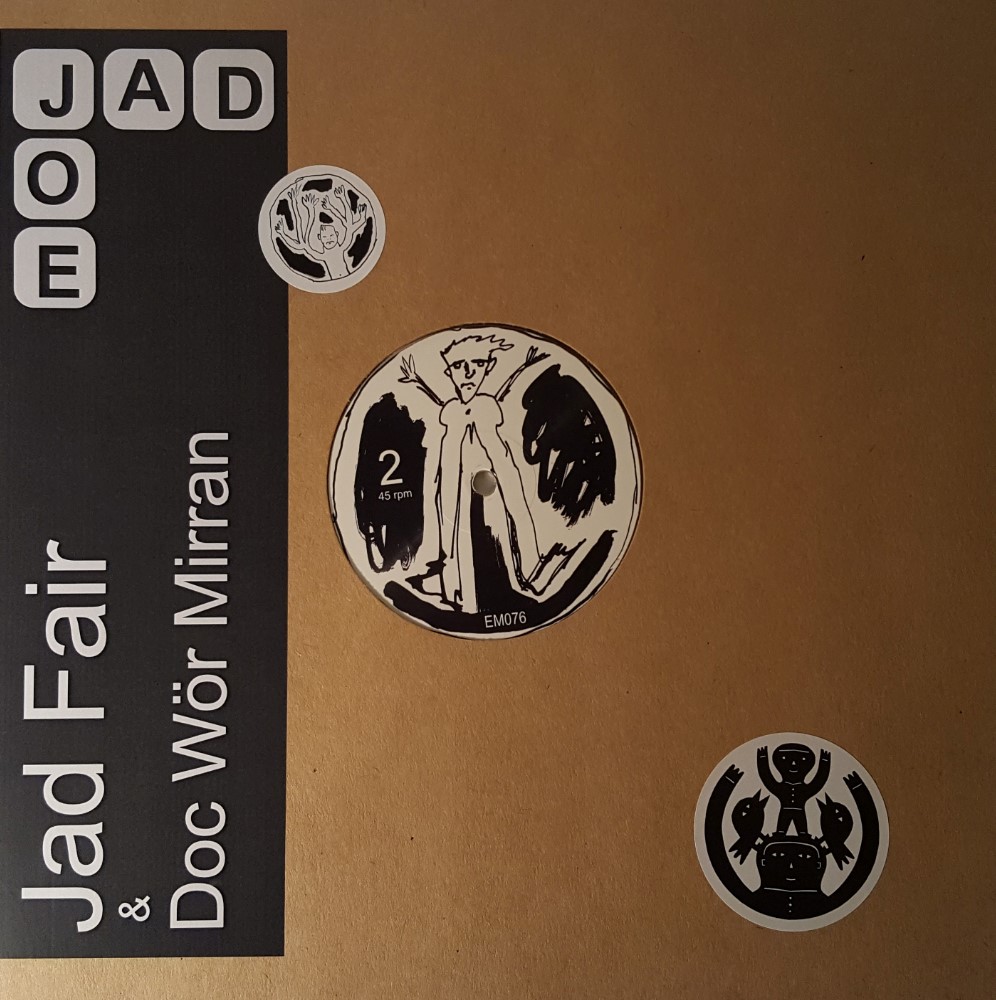 Artist: Jad Fair & Doc Wör Mirran
Title: Jad & Joe
Label: EBUS Music Format: LP Catalog #: EM076 Release Date: August 3rd, 2019
Recorded over twenty years ago, the fine folks over at EBUS Music have released this mini LP of Doc Wör Mirran's collaboration with Jad Fair, and on clear vinyl to boot! Also available is a limited edition boxed version including original signed artwork by both Jad Fair and Joseph B. Raimond, electric lights inside the box, plus lots of other goodies, and limited to only 23 copies. Both versions feature Jad Fair on vocals and words, Joseph B. Raimond on all instruments, and .rizla23. on limited edition packaging.