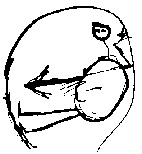 RRRecords
Over the last two decades RRRecords has become one of the most important labels for experimental/industrial music in the world, releasing such renowned artists as Asmus Tietchiens, Merzbow, Sleep Chamber, and Nurse With Wound, among many others. Besides the label, Ron of RRR also runs a record shop as well as a mailorder. RRR played a major part in the early career of DWM, releasing two of their most important albums.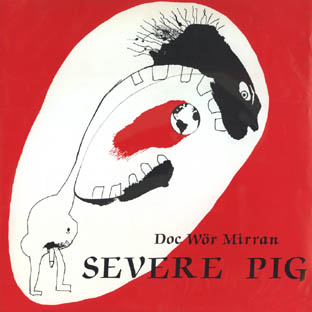 Artist: Doc Wör Mirran
Title: Severe Pig
Label: RRRecords / eMpTy Records Format: Vinyl LP Catalog #: RRR-Doc / MT-061 Release Date: January 1st, 1989
This album was so important for DWM as it was the very first vinyl album. The vinyl freaks that DWM are, we really wanted one of those typical American style LP covers, just like those old worn out Beatles albums everyone all knows and loves, where the cover is actually printed on paper, and then glued onto a cardboard cover. When this came out, Ron claimed that it sold out so fast that it was the only record he ever released that was sold out before he could put it into his catalog! Musically, it is one of DWM's typical hybrid albums, featuring both guitar oriented tracks mixed with industrial and experimental, and although the production can be rough, it has stood the test of time and remains one of the best DWM releases. Standout tracks include "The Human Prospect", "Joel Selvin Can't Dance", and both parts of "Everyday". Featuring Joseph B. Raimond, Ralf Lexis, Frank Abendroth, Peter Schuster, Theodor T. ThrongoMob, Jeandra Raimond, John Eberly, Fraulein Niemand, Denise Pawlak, and recorded from May 1987 through May 1988. Includes an insert. Edition of 500 copies, it is today very rare.
Artist: Doc Wör Mirran
Title: Odds, Sods And Dirtclods
Label: RRRecords / eMpTy Records Format: 3x Vinyl LP Box Catalog #: RRR-WOR / MT-148 Release Date: October 6th, 1991
RRR fullfilled another DWM dream with Odds, Sods And Dirtclods, a three LP boxed set. More industrial/experimental in nature than the Sever Pig album, it features such standout DWM classics as "Beat Your Meat Manifesto", "Stop Doing The Laundry Frank" and the epic "Trilogy Tits". A beautiful full color cover and a booklet round out this monumental release. Six sides of pure DWM noise, it features Joseph B. Raimond, Bernard Worrick, Ralf Lexis, Peter Schuster, Denise Kusiak, Michael Wurzer, Rich Ferguson, Adrian Gormley, Emil Beaulieu, Frank Abendroth, John Mervin, Jello Biafra, Jeandra Raimond, Donna, Uwe Witzke, Nao Ishimaru, Dave Fanning, Joolie, John Eberly, Allen Shain, Joe Red and Frans De Waard. Edition of 500 copies.