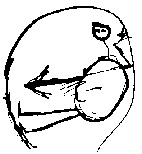 collaborations with
SACK
It is hard to know where to begin when discussing the music of Harald Sack Ziegler, also simply known as just "Sack". He specializes in a sort of lo-fi garage-sound, but in reality is a classically trained musician (French Horn!), who now works in a music archive for a living. An icon in the tape scene, he has recorded dozens of cassettes, most of which he has released on his own "Scheisskasten" label. A tireless self promoter, these tapes can be found in the collections of home taper enthusiasts the world over. He has also recorded several albums, both on LP and CD, some of which are on MT, as well as a few 7" records. Besides a large catalog of recorded output, he is also a great live act. Playing alone on stage, he offers the audience a great mixture of humour and music played on his now quite extensive collection of toy instruments. Where else is one likely to see one artist create an actual song out of wind up Barbie dolls and a squeeking ball? And not only that, write lyrics to it that are both funny and inspiring. Songs about overweight sharks, bungalows, barbie dolls, and his lonely grandmother reveal not only a unique wit, but also a sensitive artistic expression. As a fellow homerecording artist and with a style sometimes not altogether different from that of DWM, it was only natural that a friendship would evolve and that some collaboration work would result.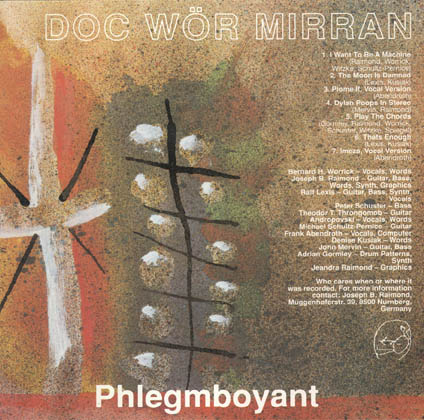 Artist: Doc Wör Mirran / Harald Sack Ziegler
Title: Phlegmboyant
Label: eMpTy Records Format: Vinyl LP Catalog #: MT-167 Release Date: July 25th, 1992
Musically, this is a wonderful release, a split release with DWM and Sack, each artist with a full LP side.The Sack side is the best work he has ever done, period. Funny and inspiring at the same time, standout tracks being "Bungalow", "Meine Oma" and "Ungeheuer". DWM also offers one of their best ever performances, this record featuring one of the all-time best DWM tracks, "I Want To Be A Machine". The DWM tracks feature as members this time: Bernard H. Worrick, Joseph B. Raimond, Ralf Lexis, Peter Schuster, Theodor T. ThrongoMob, Andropovski, Michael Schulz-Pernice, Frank Abendroth, Denise Kusiak, John Mervin, Adrian Gormley and Jeandra Raimond. Who cares when or where it was recorded! 500 pressed.

Artist: Doc Wör Mirran & Harald Sack Ziegler
Title: See Dee
Label: Marginal Talent Format: 5" Vinyl Single Catalog #: Talent Eleven (MT-346) Release Date: September 20th, 1998
Considering the long and ongoing friendship between DWM and Harald "Sack" Ziegler, it was only natural that a collaborative effort would be the result of this relationship. Two tracks, each barely a minute in length, pressed onto two sides of a mini, 5" colored vinyl record, packed into a CD-single cover (hence the title, for all you a little too slow today to understand the pun). The music was recorded by Joseph B. Raimond, then sent to Sack, who wrote and recorded the lyrics. 500 singles were pressed, but many didn't make it through the cutting stage, so it is hard to say how many exist. Weird and wonderful.