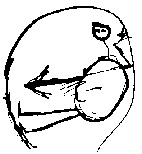 The DOC WÖR MIRRAN series of writings
People have been asking for over twenty years what Doc Wör Mirran means. The answer to this question, as well as many of life´s other mysteries llies hidden in the two books that make up the entire "Doc Wör Mirran" series of writings. Written by DWM mastermind Joseph B. Raimond, these two hundred works were written during the first few years of the 21st century. Is it German? Perhaps a bit of English? Hard to say. What we can say though is that there has never been a collection of writings like this.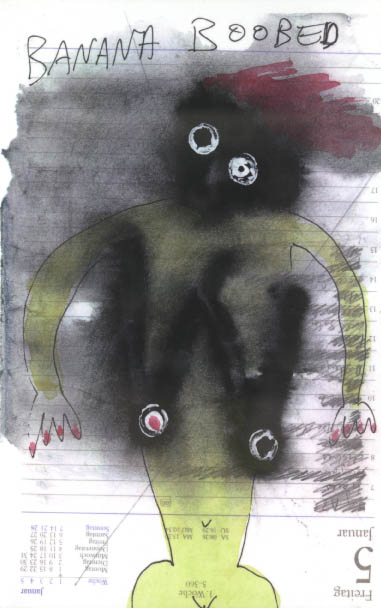 Artist: Joseph B. Raimond
Title: Banana Boobed
Label: Mirran Thought Format: Book Catalog #: Read Two (MT-454) Release Date: May 30th, 2003
Joseph B. Raimond's second book, this is the first in a two part collection of poems, the complete Doc Wör Mirran series of writings. The style is much different from the first collection, these pieces being written in a funny combination of English, German, and a little Spanish, with a large portion of absurdity thrown in. At least 90% of the words are spelled wrong, guaranteed! With such titles as "Ripped Von Tinkle", "Sludgie Butt" and "Ol' Tyred Turds", there has never been a collection quite like this. 100 pages.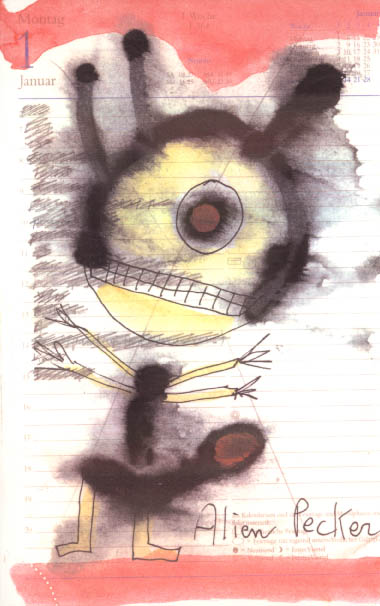 Artist: Joseph B. Raimond
Title: Alien Pecker
Label: Mirran Thought Format: Book Catalog #: Read Three (MT-473) Release Date: May 18th, 2006
One thing you can be sure of here, you have never read a book like this before, ever! Well, OK, maybe with the first part of this two part set, "Banana Boobed", which came out in 2003. Filled with made-up words, some part English, others part German, even the odd Spanish word here and there, this book is not easy to read. Just when you finally figured out what a "Breezle Crump" and a "Titoid" is, you are now bombarded with "Bellamie Brazeers", "Rooch Roober" and "Koofer Dyne". A tip: speak the words out exaclty as they are spelled, and you will soon notice that it is not that hard to understand after all. Once you've read a few, then you won't want to stop! Is it poetry? Is it art? Hard to say, but who cares, it is a fun little book that hasn't let itself be influenced by anyone. Is it pornography? Some conservatives will think so, that's for sure. Pure fun, art, poetry all mixed together.112 pages.