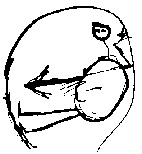 ANNIVERSARY EDITIONS
Being more or less the "house band" of MT, it is therefore no wonder that Doc Wör Mirran would plan and produce special releases to commemorate certain milestones in the path of MT. Very limited editions, hand painted covers, weird formats, these were always typical aspects of DWM projects anyway. But on these projects, we have attempted to make very special releases, with no expense spared in bringing you a valuable, unique piece of art, as well as an important part of the history of our company, MT. Don't bother trying to order either of these releases, as they were only available either very shortly, or had to be pre- ordered prior to pressing. But stay tuned, knowing DWM, more such projects are just around the corner.

Artist: Doc Wör Mirran
Title: The Shroud Of Bernard
Label: eMpTy Records Format: Vinyl LP Catalog #: MT-100 Release Date: July 17th, 1990
To commemorate the 100th release on MT, Doc Wör Mirran saw it fit to release this special LP. Limited to 20 numbered copies, it features a hand painted cover on both sides, and is signed and numbered by Joseph B. Raimond. The labels as well are hand painted. Black vinyl, the music is pressed on one side only, the other side of which is a quite elaborate vinyl etching by Joseph B. Raimond and Bernard H. Worrick. Included inside is a small watercolor painting by John Eberly, and four art and poetry inserts. Musically, it is often very minimal and experimental, recorded in 89 and 90 at DWM's Two Car Garage Studio in Nürnberg. All in all, containing submissions from Joseph B. Raimond, Bernard H. Worrick, Peter Schuster, Jeannette Gustavus, John Eberly, Denise Kusiak, Michael Wurzer, Frans De Waard, Allen Shain and Frank Abendroth.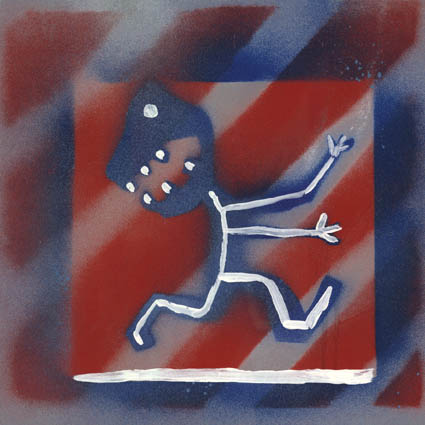 Artist: Doc Wör Mirran
Title: Ben Droppings
Label: Marginal Talent Format: Vinyl LP Box Catalog #: MT-250 Release Date: December 1st, 1994
A few years after the "Shroud" project was released, DWM put out this elaborate box set to celebrate the 250th release on MT. A box set, it contains several prints by Joseph B. Raimond and his daughter Jeandra, a tar painting by Peter Schuster, an LP and a Cassette, and a ceramic plaque by Joseph B. Raimond engraved with the buyers name and copy number, all contained inside a hand painted (both inside and out!) box. Limited to 20 copies, the box also contains the name and copy number of each buyer ( it was not pressed until all copies had been reserved and paid for!). Due to the fragile packaging, the entire box is then wrapped in a spray- painted sheet of clear protective plastic. The vinyl LP itself is one-sided (the label is a spray painted red cassette label with black printing that matches the labels on the tape) black vinyl, the other side of which is spray painted and has a large paper sticker of weird artwork.The cassette is black plastic, without box. Musically, it contains live recordings of very good quality from our former Nürnberg area practice room, featuring Joseph B. Raimond, Peter Schuster, Adrien Alecu and Kid G. Totally live recorded in our rehearsal room, there are no overdubs on these recordings. It cost DM 200.- at the time, but due to the fact that each copy is personalized, we can't imagine anyone parting with one. It took a good half year to compete all 20 copies!