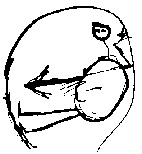 SHAPES & WEIRD VINYL
The various members of DWM were always big record collectors, and from the very beginnings of DWM, it was always our intention to create releases especially intended for collectors and fans of vinyl. Many of our singles have since become collectors items. This page documents our efforts in cool collectable shaped vinyl records and other kinds of weird vinyl. We figure that as long as vinyl records exist, we will do our best to release the weirdest, coolest vinyl for all you junkies out there.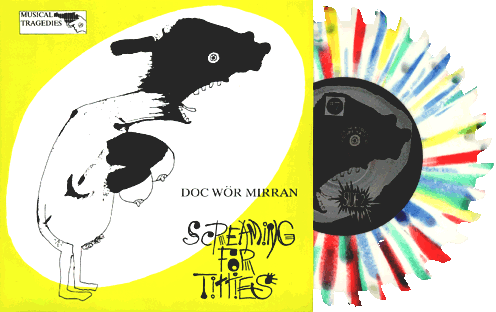 Artist: Doc Wör Mirran / Controlled Bleeding
Title: Screaming For Titties
Label: Musical Tragedies Format: Vinyl 7" Sawblade Catalog #:Eightieth Mammarian Tragedy (MT-222) Release Date: May 1st, 1994
Part seven in the on-going series of saw-blade shaped vinyl singles on Musical Tragedies. Each release is a split release between two artists. In this case, DWM shares the record with Controlled Bleeding. The DWM side is exclusive to this release, and features Andropovski screaming through a barrage of total noise. This track is by far the most "industrial" track so far released by DWM. Also included are performances by Joseph B. Raimond, Peter Schuster, Frans De Waard, Michael Wurzer, Emil Beaulieau and Adrian Gormley. A photo of Peter and Joe on the inside by .mario., taken while waiting for the Ringo Starr concert in Aschaffenburg to start. Both bands are loud, experimental, and made to be played at maximum volume. First pressing of 500 on multi-colored vinyl, second pressing of 500 on clear.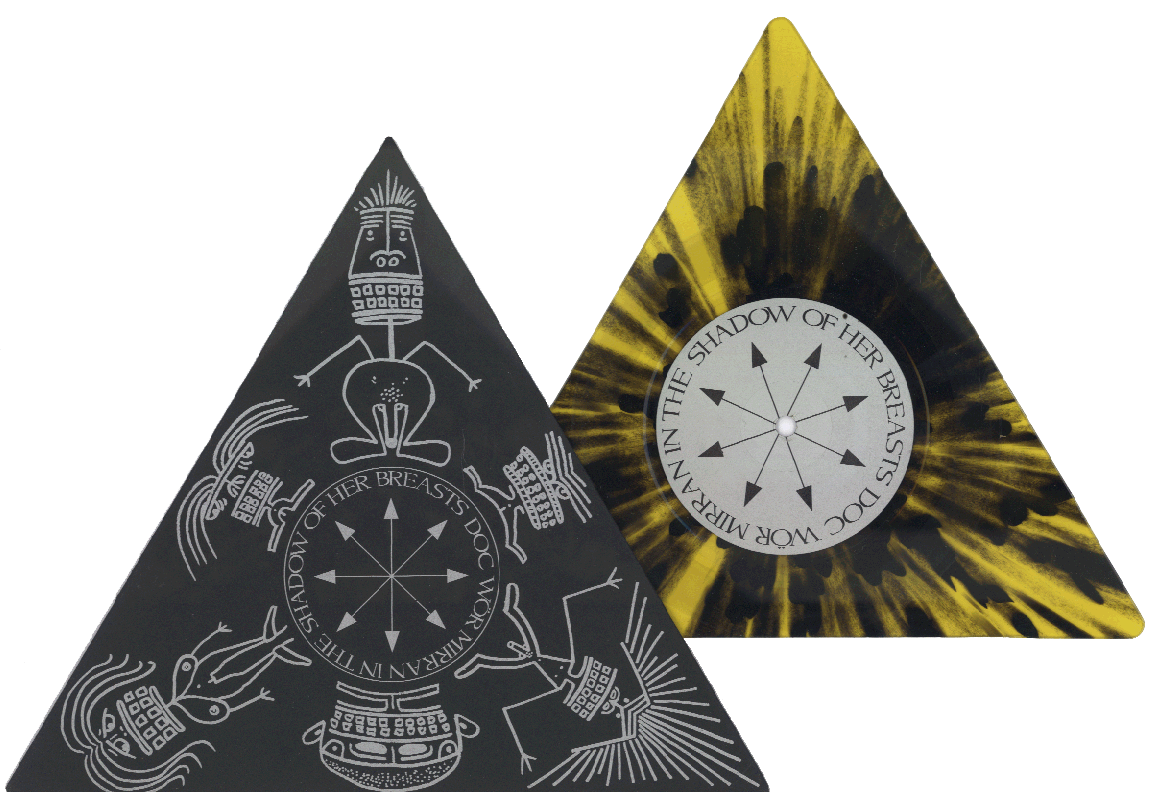 Artist: Doc Wör Mirran
Title: In The Shadow Of Her Breasts
Label: Musical Tragedies Format: Triangle-shaped Vinyl Catalog #: One Hundredth Anniversary Tragedy (MT-300) Release Date: December 1st, 1994
In late 1994, we find ourselves at a big crossroads in the history of our label(s), and of DWM. To commemorate all of this, we have decided to do a very special release, namely, a triangle shaped record. It commemorates 10 years of both Doc Wör Mirran and MT, is the 300th MT release and is also the 100th from Musical Tragedies. Finally, it is the 50th Doc Wör Mirran release so far! Musically, both songs feature Mani Schumann doing his weird Franken dialect vocals. Due to the shape, both songs are short (about two minutes each), and feature the usual DWM crew of Joseph B. Raimond, Ralf Lexis and Peter Schuster. As usual, the title is by .mario. First pressing of 500 yellow vinyl with black splotches, second pressing of 300 on clear. Due to the difficulty in shaping this particular record, many of them were destroyed while shaping, so the actual amount in existance is hard to determine, and probably a lot less. In fact, the second, clear pressing, was so difficult to shape, that most of the records were left round, and packaged into the triangle cover and held together with nuts and bolts! All labels black with silver printing. Like the vinyl, the cover is also three sided, featuring drawings by Joseph B. Raimond, printed in silver on black paper. Released December 20th, 1994, exactly 10 years after MT-001, the Numb Tongues No Taste sampler cassette.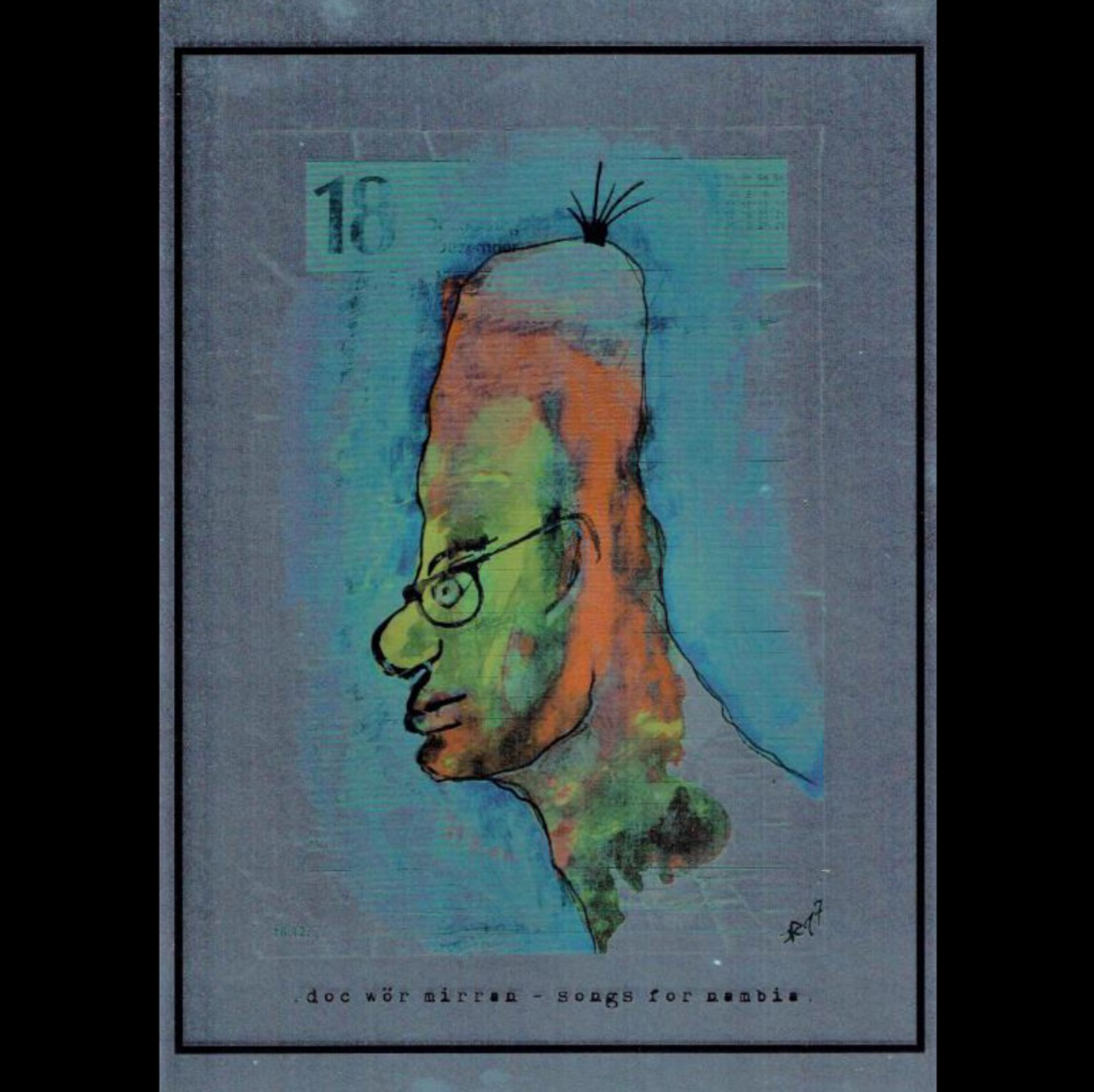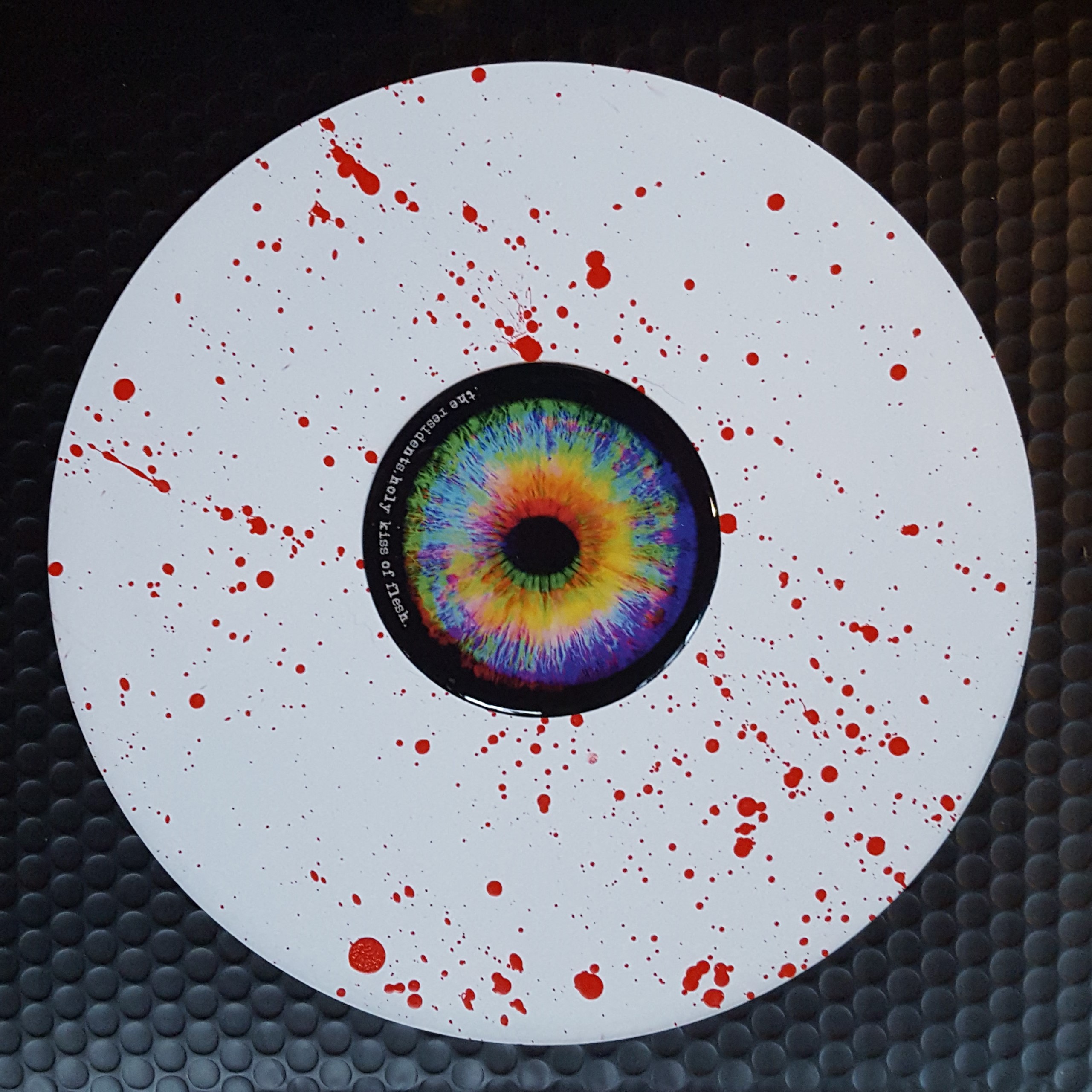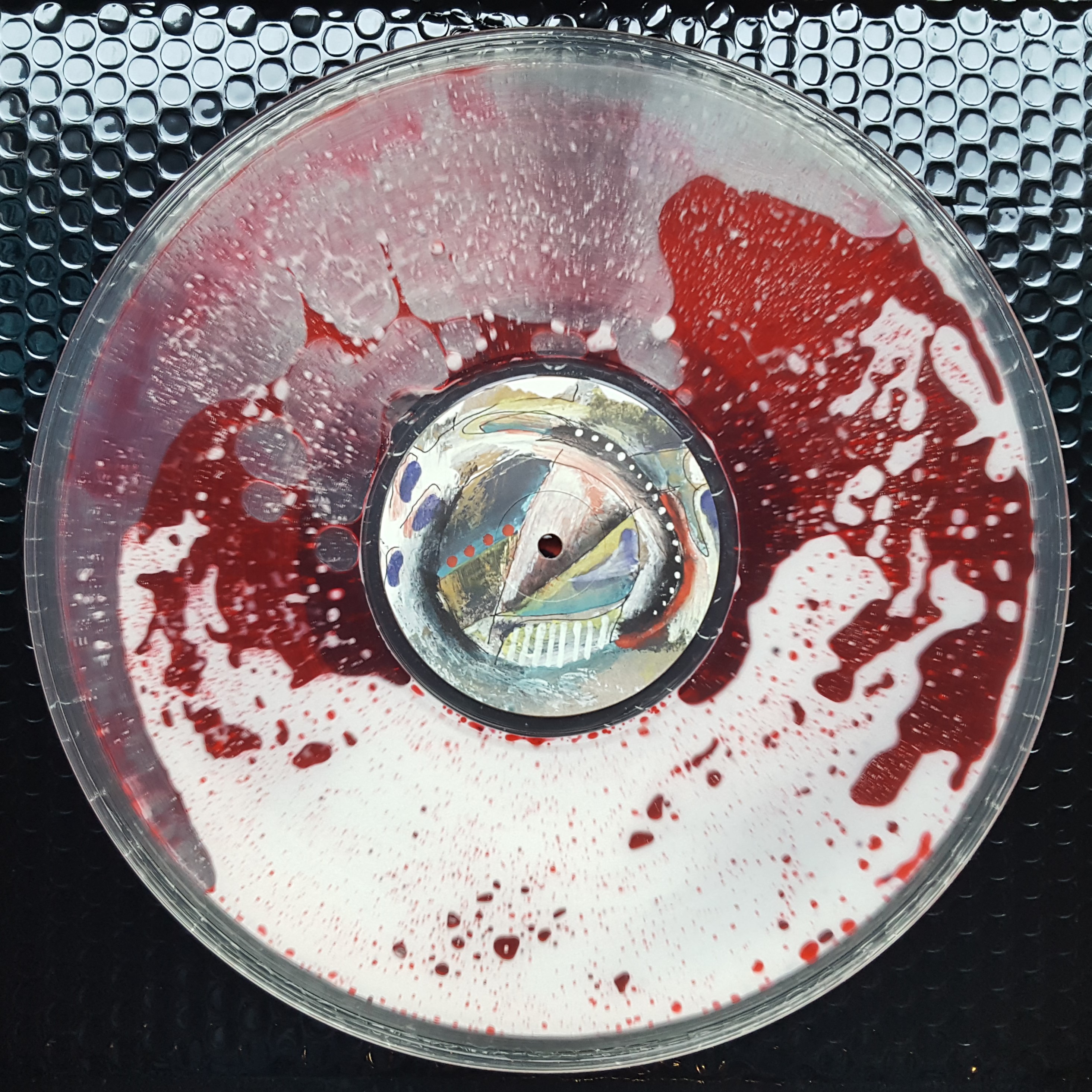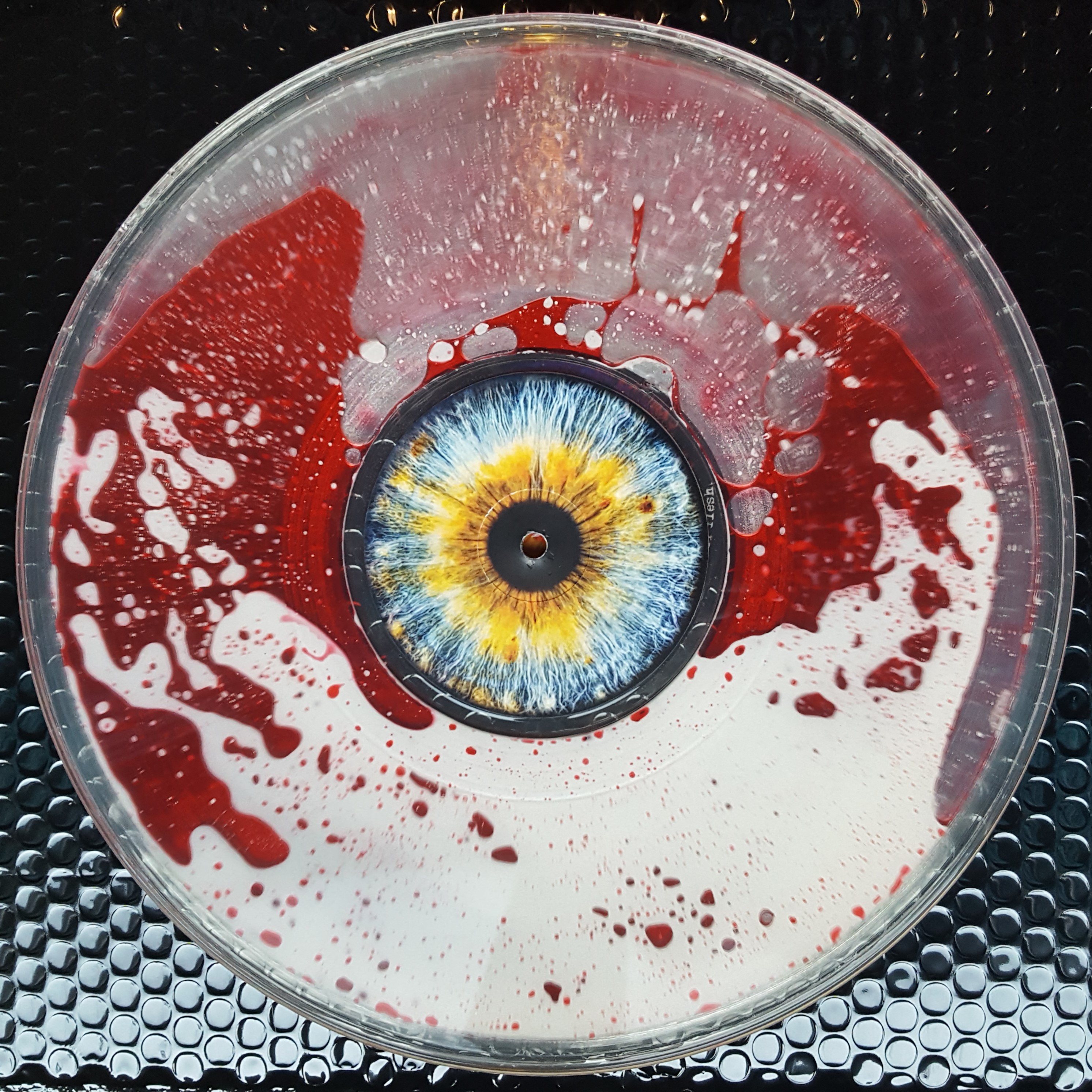 Artist: Doc Wör Mirran / The Residents
Title: Songs For Nambia / Holy Kiss Of Flesh
Label: Minimalkombinat Format: LP Catalog #: MK70 Release Date: January 27th, 2022
Containing studio versions of some of the tracks DWM played live in Lithuania, Augsburg and Munich, Germany in 2017, this recording features Adrian Gormley on sax, Michael Wurzer on samples and synthesiser, Joseph B. Raimond on bass, guitar and synthesiser and Stefan Schweiger on samples and theramin. Recorded from September 2017 to February 2018 at Two Car Garage Studios in Fürth, Germany, with cover art by Joseph B. Raimond. On the flipside we have the always great Residents, offering for the first time on vinyl, their 16 minute long track "Holy Kiss Of Flesh". Three versions of this release were made, each with a slightly different cover, including 23 test pressings, 111 "normal" on white/red vinyl and 46 on liquid-filled vinyl. All three versions include eyeball M & Ms, made especially for this release.