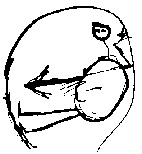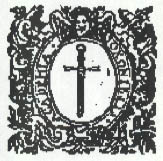 PRION
Prion Music is a Nürnberg area label, owned by Peter Schuster, that started off releasing cassettes, then branched out into recordable CDs and even some vinyl. Peter Schuster himself has contributed to many DWM recordings over the years. He also was a member of the influential and early Nuernberg area industrial band PCR, as well as recording on his own under the names Die Rache and Tesendalo. Orignally called just Prion Tapes, Prion Music has existed now for many years, having released many of the finest names in experimental music. With Prion releases you are also guaranteed innovative packaging.

Artist: Doc Wör Mirran
Title: Dickhead And Happy About It
Label: Prion Format: Cassette Catalog #: PR12 Release Date: February, 1988
An earlier recording, and the first DWM release on another label. This C-60 recording contains four 15 minute experimental, electronic pieces, each of which starts off with a spoken word introduction, which are provided by Volker Stewart, Dave Fanning, John Waddingham, and of course Bernard H. Worrick. Other contributions from Joseph Raimond, Ralf Lexis, Jeandra Raimond, Allen Shain, and Denise Pawlak. Most covers are black printing on white paper, a few are also on colored paper.

Artist: Doc Wör Mirran / PCR
Title: We Are Planning To Kill You
Label: Prion Format: Double Cassette Catalog #: PR25 Release Date: February, 1993
This one is actually a split release with PCR, the always great but now defunkt Nürnberg industrial band. Each band has its own tape, cover art and title. Released in 1993, it features many DWM members, including J. Raimond, P. Schuster, B. Worrick, .mario., Andropovski, F. Abendroth, E. Beaulieau, F.DeWaard, R. Lexis, D. Kusiak, O. Van Essenberg, J. Waddingham, M. Wurzer, J. Eberly, L. Gabiot and J. Mervin. As with all Prion releases, very experimental in nature. Both C-60 tapes packaged into an old tobacco can, with the art wrapped around the can. Each band has a long strip of art and info which is rolled into the can. All art is fotocopies, some on colored paper. Over the top of the can is glued a small strip of paper with the band names.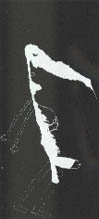 Artist: Doc Wör Mirran
Title: Bimbern
Label: Prion Format: Double Cassette Catalog #: PR45 Release Date: October, 1994
The recordings on this deluxe double c-60 tapeb set result from months of improvisational jamming in our now defunkt practice room in Nürnberg. Unlike the other DWM tapes on Prion, all tracks are played live, with no overdubs, and feature performances by J. Raimond, P. Schuster, Helmut Burghart, Stubs and Knut Friebel. Both tapes are wrapped, without boxes, into an insert, printed black on white paper. This is then put inside one of Peter Schusters old socks, which then has the cover, also printed black on white paper, wrapped around the sock.

Artist: Doc Wör Mirran
Title: Dork
Label: Prion Format: Cassette Catalog #: PR52 Release Date: May 30th, 1998
A collection of older material that somehow didn't manage to make it onto any other project. More experimental in nature, this is the last DWM recording featuring Michael Wurzer before he dropped out of the music scene altogether to open up a fish shop. Includes a rare appearance by Michael Asch. Also features performances by Joseph B. Raimond, Ralf Lexis and Peter Schuster. A hand-made cover made out of sand-paper rounds out this release.