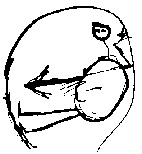 Historical Obscurity
This series of releases features remixed and re-recorded versions of old DWM tracks, many of them long sold out, in new packaging which, like the original releases, features reworked cover art from the original releases.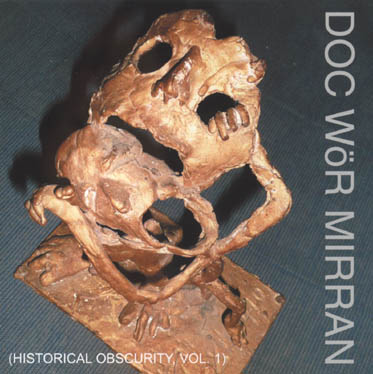 Artist: Doc Wör Mirran
Title: Doc Wör Mirran
Label: MissmanagemenT Format: CD Catalog #: Have Five (MT-558) Release Date: December 20th , 2009
Twenty-five years to the day after the release of the very first DWM release (see early cassettes), DWM releases this re-mixed and partially re-recorded version of their classic cassette-only release. Part one of Historical Obscurity, a planned series of releases that will feature new versions of old, out of print tracks. Originally recorded in San Francisco when DWM was based there, many of the very experimental tracks were assignments for an electronic music class that Joseph B. Raimond was taking at the time. Cover includes photography by Jeandra Raimond of a bronze sculpture by Joseph B. Raimond that was inspired by the original cover art. Besides the original line-up of Joseph B. Raimond, Bernard Worrick, Rich Ferguson and Frank Abendroth, it also features on the new recordings input by Ralf Lexis, Peter Schuster and Jeandra Raimond. The original cover art of the cassette is also included in the cover. Pressed on blue plastic.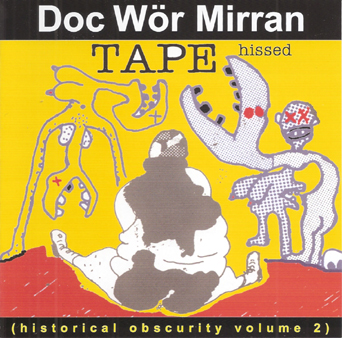 Artist: Doc Wör Mirran
Title: Tape Hissed
Label: MissmanagemenT Format: Tape & CD Catalog #: Have Nine (MT-594) Release Date: September 2nd, 2016
Part two in our series of remixed and re-recorded tracks, Tape Hissed features tracks that originally appeared on cassette-only releases, most of which are long sold out. The "tape" part of this release, sides one and two, features new recordings of "Help, We Need A Melody", the first ever DWM composition especially re-recorded for this release, although as the tape is squeezed behind the tray on this special release, we doubt anyone will go through the trouble of winding it onto a cassette to listen to it. Let us know if you do! Side three is a full length CD. Contributions on this release include Joseph B. Raimond, Bernard Worrick, Ralf Lexis, Denise Kusiak, Peter Schuster, Frank Abendroth, Michael Wurzer, John Mervin, Dave Fanning, Donna, Klaus Lipke, John Eberly, Jello Biafra, Knut Friebel, Helmut Burhart, Adrian Alecu, .mario., Marcel, Rich Ferguson, Michael Asch and Fraulein Niemand. Weird cover art makes this a very fun release.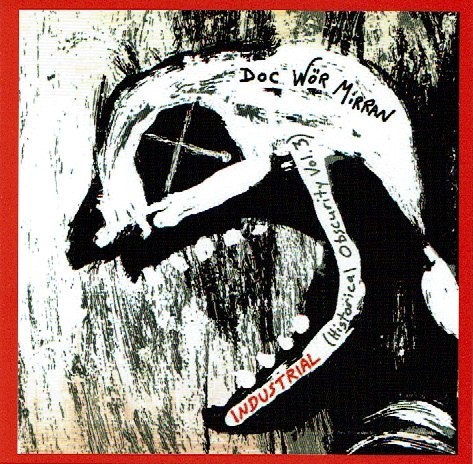 Artist: Doc Wör Mirran
Title: Industrial
Label: MissmanagemenT Format: CD Catalog #: Have Twelve (MT-604) Release Date: February 12th, 2018
Part three of our Historical Obscurity series, this one features many of the more experimental DWM tracks that appeared on now long out of print vinyl records many years ago, all mixed into one full length long track. Remixed and partially re-recorded, this release breathes new life into these old works, and represents a long gone era of DWM. Featuring Bernard H. Worrick, Frans De Waard, Joseph B. Raimond, Peter Schuster, Beaulieau, Adrian Gormley, Jeandra Raimond, Ralf Lexis, Deane Kusiak, Denise Kusiak, John Eberly, Theodor T. ThrongoMob, Rich Ferguson, Michael Wurzer, Ishimaru, JoAnn Raimond, Jello Biafra, Asmus Tietchiens and Allen Shain.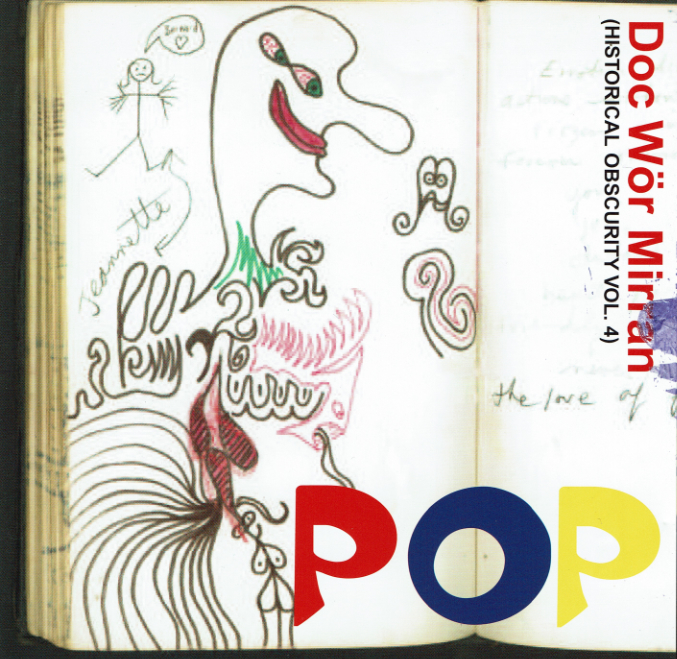 Artist: Doc Wör Mirran
Title: Pop
Label: MissmanagemenT Format: CD Catalog #: Have Seventeen (MT-613) Release Date: April 23rd, 2019
The fourth and final CD installment of DWM's "Historical Obscurity" series of re-released and partially re-recorded recordings from their prolific past. On "Pop", DWM delves into their considerable archive of guitar oriented tracks from long out of print vinyl LPs, featuring such classic DWM gems as "Adopted Shoes", "Save The Fish" and "Punk Floyd", among many others. Nineteen tracks in all, many with vocals from the time when Bernard H. Worrick was still part of the fray. Also featuring the talents of Joseph B. Raimond, Adrian Gormley, Frank Abendroth, Ralf Lexis, Michael Wurzer, Peter Schuster, Zoogz Rift, Fast Eddie Clarke (Motorhead guitarist), Kid G., Lars Sorensen, Kjetil Gudmundsen, Peter Kern, Michael Schulz-Pernice, John Eberly, Denise Kusiak, Joolie Wood (Current 93), Ski-King and Dick and Phil (Subhumans), and of course, Fraulein Niemand. Including special hand-painted marbled plastic covers. "But, but....... It's POP music!" - Marc Behrens