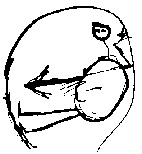 MACHINES DON'T BLEED
Two releases with the same title, but one project. Like many DWM later projects, is a very complex project, stretching over several years, consisting of a series of paintings, a series of songs, an exhibition, and some special packaging. The concept behind the idea of Machines Donít Bleed is that machines are clean, reliable, canít get weird diseases, and if taken care of properly, can work forever. They donít excrete strange fluids, canít feel pain or loneliness, and have no messy organs to be replaced.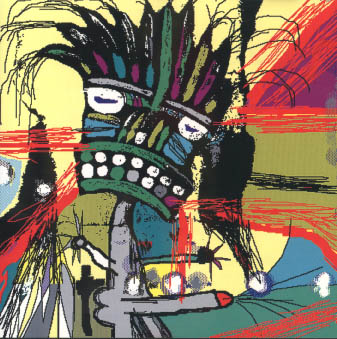 Artist: Doc Wör Mirran
Title: Machines Don't Bleed
Label: Marginal Talent, EBUS Music, Moloko, Yucca Tree Format: CD Catalog #: MT-324, EM 049, Plus 002, YTRDWMONE Release Date: December 10th, 1997
The songs on this CD started out as computer compositions on an ancient Commodore computer owned by Andropovski, and although very old fashioned by today's very high standard of computer technology, the limited technology gives the tracks a very special kind of charm. When finished, the tracks were then transferred to a normal analog deck, where further analog recordings and instruments were added. Similarly, the accompanying series of pictures started out as normal paintings, which were then scanned into a computer and further changed. The recording took many years to complete, with the final mixing taking place at Two Car Garage Studios in Novermber 1997. This recording features Joseph B. Raimond, Peter Schuster, Jeandra Raimond, Ralf Lexis, Andropovski, Manfred Schumann, John Eberly, Laurent Gabiot, Dad Raimond, Theodor T. ThrongoMob, Kid G., as well as one of the very last performances ever of Bernard H. Worrick. Full color cover and tray from the painting series, which were painted by Joseph B. Raimond, Stefan Schmidt and Jeandra Raimond. This release was a kind of sampler of labels interested in DWM, and was put out by the labels involved together. For more info on this kind of release, check out our label samplers page.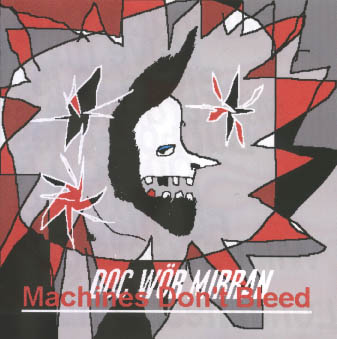 Artist: Doc Wör Mirran
Title: Machines Don't Bleed
Label: Hand-made Format: CD-R Catalog #: Have Five (MT-441) Release Date: June 5th, 1998
This release contains the 40 graphic works produced by Joseph B. Raimond, with the help of Jeandra Raimond, Stefan Schmidt and Gerhard Heimrath, to augment the audio recordings of the same name. Like the audio tracks in this project, these works were produced by mixing photos and/or paintings with the very limited computer graphic technology of the time. This was the first Doc WŲr Mirran "Hand Made" CD-R, containing only graphic files and no music at all. Originally, there were plans to release a limited edition of the audio CD, each with one of the original forty signed prints and the corresponding original computer disc, but these plans, with this release of all the paintings on one handy CD-R, were then abandoned.