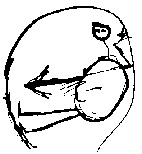 Old News
1.6.2008

"He Emits A Depressive Glow", our second CD-R containing computer files of the Daily Plop series of paintings is finally out. This release collects all pictures from the years 2005 and 2006. Also due for release very soon is our next studio album of music, "Guitarred And Feathered", to be released on our new DWM label MissmanagemenT. Stay tuned here for more details very soon.
Although it isn't much, we got the DWM concerts page up finally.
3.12.2007
Welcome to the new, revamped DWM homepage. Like the first version, we are doing this ourselves, and a lot of thought went into what exactly we wanted. One thing we knew for sure, we wanted no fancy flash annimation, no gimmicks and no dazzling special effects. First and foremost, it should be easy to navigate and easy to understand. One point of criticism taken by a friend was that it was too "wordy", but so be it, as it is intended to contain as much information as possible. We also decided against a colorful background like the first version, it just got too hard on the old eyes. Notice too, that it isn't close to being finished yet, as only some of the links work, but we are working on the other pages, and hope to get them all online as we finish them, so keep checking back. As always, helpful criticism is always welcome, don't hesitate to write us if you think we could do something better.
23.11.2007
Don't miss the next major exhibition by Joseph B. Raimond, at the Atelier of Jule Baumeister in Munich, Georgenstr. 66. The opening will take place on Thursday, November 29th. If you are in the Munich area, drop on by. The show will be up until the 18th of January, 2008. It is titled "Politicaly Correct, small formats", and will also be showing works by Nico Chio Heimann.
Released to coincide with the show in Munich is the fourth book by Joseph B. Raimond, "Vomiting Chaos" (see below). This is the first book by Raimond that contains only pictures from the Plop Art series of pictures, and can be considered the catalog to the exhibition. It is also the first Raimond book printed in hardcover format. A second hardcover volume of Plop Art works is planned.
Our Show in Koeln was a success. We played first, a long, 45 minute composition that was composed and arranged by DWM member Ralf Lexis. A live recording of the show does exist, which we do hope to make available as a DWM release some day.
2.10.2007
Hard to believe, but yes, it is true: DWM will be playing its third ever live concert, on October 12th, 2007 at the Blue Shell in Koeln, Germany. This will be a benefit concert for the John Peel Foundation, and features several other artists as well. Longtime DWM member Adrian Gormley will be flying in from San Francisco just for this concert. He will be playing the saxophone, and will be joinged by Ralf Lexis on guitar and Joseph B. Raimond on bass. Backing tapes by various DWM members supplied over the years will be used as background noise. We hope to see you there.
27.6.2006
Also released in time for Joseph's Munich exhibition is the next in his line of CD-Rs containing no music, but graphic files of a series of paintings. "How The Elephant Man Masturbates" contains the entire series of "Daily Plop" paintings by Joseph B. Raimond in 2004. A total of 232 works, they represent Joseph's goal of establishing his own graphic language influenced and connected to his experiences within the punk rock scene. Like punk, many of these works are aggressive, disturbing, and make fun of anyone who takes himself too seriously, including nazi skins, green party members, and people with deformities. Indeed, they are often funny and poetic at the same time, with the titles of the works being an integral part of the whole. More CD-R releases containing Daily Plop paintings are planned.
DWM is getting closer to finishing and releasing their mammoth "Ambiall" project, which will contain ten CD-Rs of minimal music. Also, "Ambiless" will be a normal CD or CD-R release which will contain shortened remixes of all ten of the Ambiall tracks. More on this project as it nears completion.
1.5.2006
Joseph B. Raimond's third book "Alien Pecker", part two of the Doc Wör Mirran set of books, will be out very soon. Like the first book "Banana Boobed", it contains roughly 90 "poems", mostly of made up words, incredibly misspelled English, German, and again, even a little Spanish. This book is released to coincide with Joseph B. Raimond's upcoming exhibit "Daily Plop", at the Atelier of Jule Baumeister in Munich. Opening May 18th, come to the opening at 6 p.m., Georgenstr. 66. Shown will be a retrospective of twenty years of "Plop Art" paintings, several of which have been used as cover art for both the "Banana Boobed" and "Alien Pecker" books.
13.11.2005
Finally the first few pages in our mammoth effort to document each and every DWM release, beyond just listing them in our discography. It is still going to take awhile to finish, but the first few pages can already be seen by clicking on "releases" above. Check back every now and then for updated and new pages.
Joseph B. Raimond's infamous "Daily Plop" pictures are going to be shown again in Munich, from the middle of February until the middle of March. Stay tuned for more info soon....
3.7.2005
DWM's "Ipso Fatso" recording is finally coming out very soon on the fine Verato Project label.
Our art show in Paris was a blast, a great exhibition in one of the coolest gallery spaces we have come across so far.
Coming Saturday be sure to drop by 84GHZ at Georgenstr. 84 inMunich if you are in the area. This is in the Schwabing part of Munich, known as one of the leading art centers of Germany, and on this day all the galleries, ateliers and artists will be open and showing their work. Several Joseph B. Raimond pictures will be on display, and a full color catalog in book form will also be printed for this important event.
24.4.2005
Our exhibition in Paris is rapidly taking shape. For more information about the opening as well as the live entertainment planned, or if you just want to find out where it is all taking place, check out the homepage of the gallery itself: Ateliers-artistes-belleville. Alot of the organization for this show is being done by our friend Gerhard "General" Seckler.
Conrad Schnitzler sent us some of his unused cover art, which we now have now "hung up" in our gallery.Conrad Schnitzler is mostly known for his extensive solo recordings, spanning a time period of over 30 years. He was also a founding member of both Tangerine Dream and Kluster, as well as having studied with Joseph Beuys.
13.3.2005
Hello everyone. Several have written and asked why there has not been an update lately. Several reasons. 2004 was a bad year. First, our distributor EFA went bust in March 2004, owing MT several tens of thousands of Euros. The whole process of registering our claim to the court, getting our stock back, and getting a new distributor set up took most of the year. I am happy to say though that MT and all its sublabels are all still intact, financially healthy, and now in the friendly and capable hands of Indigo.
Secondly, family sickness, as my daughter had to have an emergency operation in the spring. As if this wasn't bad enough, I had an accident in October that has permanently limited my ability to move two fingers on my left hand. I have been working to regain at least some control, but it will never be quite the same, that is certain. I can still play bass, and continue to do so in The Penetraitors, but guitar, that is a different story. I practice now every day, and am making good progress, but it is a bit like starting all over again. But DWM is now back to recording regularly, and new releases are planned. I have decided that 2005 will be better, and so far, it has been.
So, what is new?
I am very pleased to report that our group show of Dee Dee Ramone, Paul Kostabi, Gerhard "General" Seckler and Joseph B. Raimond will soon be in Paris France! Yes, no joke, from June 9th to June 19th. Check this space soon for more certain details of exaclty where and in what form. Two more exihibits of works byJoseph B. Raimond will at the "Kunst im Karrée - offene Ateliers" in Schwabing and Maxvorstadt - on July 8, 9, 10 together with 2 artists from Paris.
New "Plop Art" pictures from the 2004 series are online in our Gallery.
Our much delayed "Wish You Wörn't Here" live, split LP with Mr. Ebu is finally taking final shape. It will be limited to 200 numbered and signed copies, with each record having an original Joseph B. Raimond painting as cover. It should be finally finished in the spring.
A new DWM CD-R release will be coming soon on Verato Project. Check out their homepage for exact release date and other info on this release.
For the last few years, DWM has been working on a few long term recording projects. Firstly, we have been recording tracks for a project with the working title of "Layers". These are primarily guitar based tracks that are built up layer by layer, with a particular pattern or "riff" is you want to call it that, but without melody in the normal sense. As the various tracks are brought into the mix, certain structures and relationships between the instruments come to the forefront. We are simply recording these tracks and mixing them, and plan on finishing a very large body of work before we begin to even think about the release of the tracks. This is a new way of working for DWM, and will give us the chance to choose which tracks we like the most and present a release that will feature the absolute best of years of work.
We are also in the middle of a mammoth project which has been planned for years: Ambiall/Ambiless. "Ambial" will be a ten CD-R set, with one, 60 minute long ambient track per disc. Each track will also be mixed in a shorter, 6 minute version, the ten tracks of which will result in "Ambiless". "Ambiall will be limited to 20 copies, "Ambiless" will not be limited. Reservations for the limited set are now being taken.
Lastly, we are in the process of remixing and partially re-recording various tracks that appear on our vinyl albums. These tracks were all recorded on a Fostex analog 8 track reel to reel machine, and as we want to permanently retire this machine soon, we thought we would go through the old masters one more time and offer a new look at many of these tracks. We are also planning on putting some of the better tracks recorded for cassettes together as well.
In terms of writing, several projects are also being produced. Still planned is the release soon of "Alien Pecker", the second part of "Banana Boobed", hopefully in time for the Paris exhibition. Currently being written is a book of Haiku, three lined poems with a decidedly DWM edge to them. Finally, a combination of plop art/writing is also being worked on, although this project will likely take quite some time to finish still.
OK, that gets us up to date for now. Please keep all the kind e-mails coming! Long life, Joseph B. Raimond..
12.5.04
The next stop of our traveling artshow including artworks from Dee Dee Ramone, Paul Kostabi and Joseph B. Raimond will be Munich, Germany. If you are in the area, be sure to check out the Jour Fix gallery in the basement of 84GHZ at Georgenstr. 84. The opening will be on Friday, the 14th of May at 7 p.m.. The gallery is open on Saturdays and Sundays from 1 to 5 p.m. and on appointment (call 089 30637918). Our friend Gerhard "General" Seckler will also be showing some of his works as well.
The DWM / Mr. Ebu split live LP has been delayed due to the recent insolvency of EFA, who were in the process of pressing the record when they went bust. The record will still come out though, we just are not sure when. Stay tuned.
17.10.03
Our exhibition with paintings by Joseph B. Raimond, Dee Dee Ramone and Paul Kostabi will be showing in Berlin in November. Come to the opening on November 1st and meet Joseph. The whole thing will take place from November 1st until November 28th, at the Gallerie Zero, Köpenicker Strasse 4, 10997 Berlin .
The live album mentioned earlier will be released soon. The DWM side will be called "Wish You Wörn't Here" while Mr. Ebu will title his side "Mirror Of Triarchy".
29.7.03
For those of you going to this years PopKomm in Köln, check out our exhibition of paintings by Dee Dee Ramone, Paul Kostabi and Joseph B. Raimond. If you visit the exhibit on Thursday or Friday morning, you can even meet one or two of the artists. For a taste of what is in store for you, check out our gallery page.
"Slowest", our second MT3 release is now ready for you all to download, and, as always, it is yours for free. Don't forget to download the cover as well to make it a complete MT release.
6.5.03
We have decided to go ahead and release the live DWM recordings from the 26th of January. It will be a vinyl LP, with side one the Mr. Ebu tracks and side two the DWM tracks and will likely be a split release between Marginal Talent and EBU's Music. No title of yet. It will be limited to 200 numbered copies, with some sort of hand made cover. A second release, a CD-R of the collaboration tracks with the ANA Orchester will come out as a seperate release, complete with photos of the show on Mirran Threat. Stay tuned here for further details.
Seems like the pressing plant couldn't get a good plate of the DWM etching for Turbonegro, so unfortunately, the record will be coming out without the etching. Test pressings do exist though, which will probably make this the most collectable of all Turbonegro records. Still, we are very dissapointed.
1.4.03
Check out our Gallery for a new Joseph B. Raimond exhibit. This group of paintings, the "Daily Plop" series, are currently on display in Augsburg, with another show planned in August in Köln
31.3.03
Seems like the label Vinyl Communications, who released the DWM 7" "Un(butt)plugged" several years ago, has folded.
21.3.03
Joseph B. Raimond's book "Banana Boobed" has been delayed a few months due to problems with the cover. Should be out very soon now though.
Check out the vinyl version of the new album "Scandianvian Leather" by Norway's one and only Turbonegro for an original DWM vinyl etching. This box set, similar in style and format to the DWM vinyl etching we did for Motorpsycho several years ago, will be strictly limited, so if you want one order it direct from our buddies over at Bitzcore. The coolest aspect of all, the cover of the album was designed by none other than Klaus Vormann, a longtime friend of the Beatles who designed the album cover for the Beatles album "Revolver".
Hey! From March 21st to April 5th is a huge Ramones Tribute concert and art show in Augsburg at Rampe3. Paintings from Dee Dee Ramone, Paul Kostabi and Joseph B. Raimond will be on display, as well as several days of live bands. Check out the Rampe3 homepage for more info.
18.11.02
Lots new to report on this update from the DWM camp. First, a few new releases coming: out soon on Mirran Thought will be Joseph B. Raimond's second book project "Banana Boobed" (see below for cover and more tantilizing details on this project). Also out soon will be a vinyl 10" record on Moloko + , the "Jad & Joe" project mentioned below. It is going to have an elaborate cover, with art from both Jad Fair and Joseph B. Raimond.
Hard to believe, but it seems as if DWM will be doing a live show. Yes, on January 26th, DWM will be performing live, both alone and in a live collaboration with the ANA Orchester, at the Desi in Nürnberg. Adrian Gormley, DWM member since the beginning, will be flying over from San Francisco to take part! Stay tuned here for more details on this rare event!
24.5.02
The "Soundtrack Of Death" CD is out now on Moloko+, the same people who have decided to release the Jad Fair and Doc Wör Mirran collaboration "Jad & Joe" as a 10" vinyl record, sometime this year. Stay tuned!
18.3.02
First and formost, we have a new addition to the DWM family! Joseph and Birgit Raimond are the proud parents of a healthy baby boy! Cedric Joseph Raimond IV was born on January 17th in Fürth, Germany.
The exhibition of "Expecting" pictures by Joseph B. Raimond at the Galeriehaus, together with works by Dee Dee Ramone and Paul Kostabi, was a success. Lots of people were at the opening, as well as articles in the local press. Check out our gallery page for photos of the exhibition. We have also updated the gallery with a sampling of works by all three artists.
The "Soundtrack Of Death" CD is still not out due to delays at the pressing plant. We hope to have copies very soon.
Just finished is a short, 20 minute long collaboration between Jad Fair and Doc Wör Mirran. Titled "Jad & Joe", no plans yet set for release, but we hope that will change soon. The length would be perfect for a 10"!
24.10.01
The next few days should see the release of our "Soundtrack Of Death" project on Moloko+ (see below for info). Once this is out, we will get to work on releasing the "Intimate" project, as mentioned earlier in our DWM news.
Finally, after a few years of low visibility, Joseph B. Raimond will be mounting an exhibition this coming January. Together with Paul Kostabi and Dee Dee Ramone, who will be showing their collaborative paintings, Raimond will be showing works from his "Expecting" series. The exhibition will take place at the Galeriehaus (also known as KUNO, Wurzelbauerstr. 29, 90409 Nürnberg) in Nürnberg, from January 11th until February 10th, 2002. The opening party will take place on Friday, January 11th, which is open to the public. Speaking of the "Expecting" series, some of the paintings are already on exhibit in our DWM Internet Gallery.
23.5.01
Not only did we get our "Discipline" CD-R out, but another title as well! "Momentum 1" is the second of our hybrid CD-Rs that you can now order. This one features the entire series of Momentum paintings (shown in our internet gallery a few years ago), as well as the first two Momentum musical pieces.
1.4.01
MT Undertainment has formed a new label devoted exclusively to MP3 releases called, what else, MT3, which will feature free, downloadable releases, complete with cover! With DWM the official "in-house" band, it is only natural that the first release would be a DWM release. It features the first release of three tracks DWM has recorded in collaboration with Paul Lemos, the mastermind of Controlled Bleeding. Titled "Bloodweeds", it is available only as an MP3, and is free! Look for more DWM releases soon on MT3.
Due soon on our CD-R label "Hand-made" is a an audio CD-R release of the DWM "Discipline" recording. Probably the most abstract of all DWM recordings, this is a very minimal recording of one very long track that is based upon 8 tones, gradually mixed in an out with each other. A corresponding series of paintings was also produced for the recordings, which we will attempt to incorporate onto the CD-R. If this does not work, we will release the paintings on a graphic CD-R seperately. Furthermore, we will be adding a show of these paintings to our internet gallery, most likely with the next update. Stay tuned.
13.3.01
Finally some conrete plans for new Doc Wör Mirran releases: our friends over at Moloko + will be releasing two DWM recordings on CD. The first, due soon, will be our "Soundtrack of Death" CD, packed in a film can. Probably the most "industrial" sounding of all DWM recordings. The second release will be our massive "Intimate" project, with guest stars Conrad Schnitzler, Jello, Genesis P. Orridge, Joolie Wood, Paul Lemos, among many more. This has no release date yet, probably sometime this year. It will be packed in a beautiful digi-pak cover, similar to our collaboration CD with De Fabriek.
Also, check out our Gallery page for a new Jürgen Sieber show!
30.11.00
Some very sad news for Doc Wör Mirran. Good friend and fellow Doc Wör Mirran member Frank Abendroth passed away on September 5th, 2000. We have written a piece on Frank, which can be read by clicking here. Also, some of Frank's sketches and poetry can be viewed in our Gallery.
Not much has happened in the DWM camp in the year 2000, mostly due to our move. We have gotten our studio back into order recently though, and will resume many projects that had been started and begin many of the planned projects soon. First and formost will be the release of the 7" picture-disc collaboratioin with Conrad Schnitzler, which we will release in the first months of next year on Marginal Talent.
Joseph B. Raimond has begun work on a book of short stories, tentatively titled "And, and other short stories". Many of the stories are of an extreme nature, not appropriate for republicans or those with a sensitive mood. No word yet though on a release date, if any. We will keep you posted.
Even older news:
Our personal studio, which we refer to as "Two Car Garage Studios", will be moving soon, along with the entire offices of our label activities. The new address will be announced soon enough here on our homepage. Once there, we will begin on a whole new series of DWM recordings, so stay tuned here to our DWM homepage for more info.....In our ongoing attempts to expand our homepage, we have now added our complete discography & bibliography, which can be viewed by checking the word Discography above. It contains, in chronological order, all music releases by DWM in all formats, as well as all publications and books....Always interested in collaboration work, DWM has finished the first in what it plans to be a series of recordings with Conrad Schnitzler. This first set consists of several short pieces that are planned to be released as a 7" vinyl picture disc, entitled "Azul", although a definite label or release date is not yet planned.....Also planned for next year is a collaboration with the Psyclones.....Wholeness Records in the United States will release the DWM recordings "Ipso Fatso" as a CD, at the end of this year or the beginning of next year. This is an older, somewhat harsher DWM recording that has remained unreleased until now....DWM has finished recording 9 tracks and sent them over to Jad Fair in the United States for him to record his vocals on. The resulting collaboration is planned to be released as a vinyl 10".....In sampler news, look for an exclusive DWM track to appear on the fourth part of the sampler series Anomalous Silencer, on the Napalmed label out of the Czech Republic. Also, an exclusive track is also slated for the next Yucca Tree sampler (check out our link with them).....DWM recently recorded three Beatles songs for Moloko+'s planned Beatles tribute. To be released as a 7" vinyl boxset, the three songs, which DWM refer to as their "Abbey Toad Sessions", are "Free As A Bird", "Tomorrow Never Knows" and "Cry For A Shadow"...... Joseph B. Raimond is currently in the middle of what he hopes will become his second book. Titled simply "Doc Wör Mirran", it will feature 200 poems written in a made-up language with elements of English, German and Spanish. Release date hopefully in 2000 sometime.....We would like to congratulate DWM member Ralf Lexis and his girlfriend Ramona on the birth of their daughter Zoe. She is their first child, and was the first baby born in Nürnberg in 1999!.....Yet more new baby news! Allen & Kim Shain are the parents of a baby boy. Max came to the world on December 7th, 1998. We wish them all the best.....DWM would also like to congratulate founding member Joseph B. Raimond and Birgit Jankowski, who got married last October 9th, 1998.