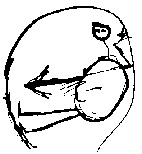 VINYL SINGLES on MT Undertainment
To be honest, one of the reasons why the label MT Undertainment was ever started was to provide an outlet for the recorded work of DWM, a function which some of the current MT sub-labels fulfill to this day. Like so many labels, MT was started by DWM simply to get something out there, and some of the most interesting releases by DWM came out on 7" vinyl. DWM made it standard to include booklets of poetry and art integrated into the open-up covers, and not only do all the MT releases feature this kind of cover, but the releases on other labels as well. Due to the limited length of the recordings dictated by the format, many, but not all of the music released by DWM on this format is more guitar oriented. Be sure to check out the singles on other labels, as well as our shaped vinyl and our vinyl LPs.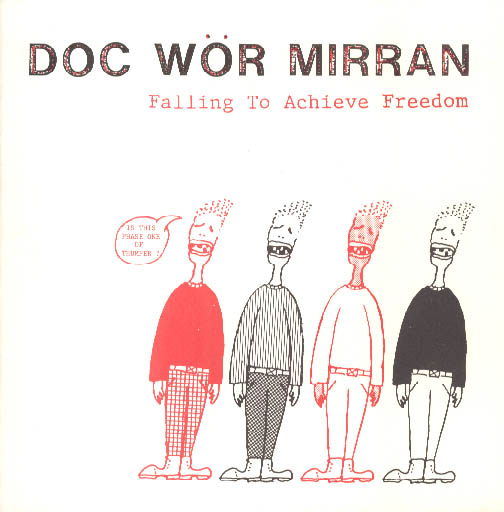 Artist: Doc Wör Mirran
Title: Falling To Achieve Freedom
Label: eMpTy Records Format: Vinyl 7" Catalog #: MT-023 Release Date: April 1st, 1987
The most important question in 1987 was "Is this phase one of Thumper?" Wow, were we proud of this release, the very first DWM vinyl ever. Four songs, released on red splatter colored vinyl, this record also featured a 16 page booklet incorporated into the cover, a feature that virtually all DWM vinyl singles were to have. Stylistically, this can best be described as "aggressive industrial punk", and features the talents of Joseph B. Raimond, Bernard H. Worrick, Volker Stewart, Donna, Ralf Lexis, Allen Shain, Denise Kusiak, Theodor T. ThrongoMob, Patricia and, who else on drums, but Fraulein Niemand. 500 pressed.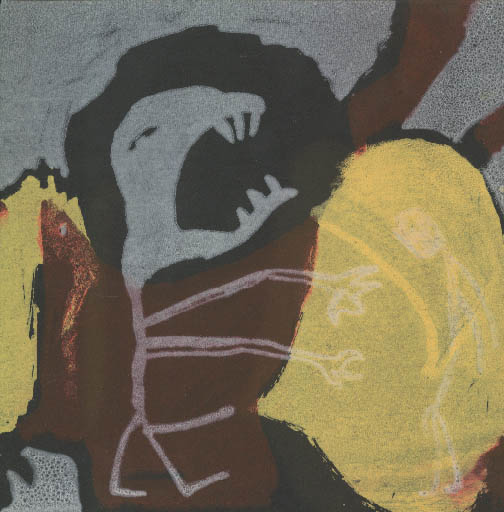 Artist: Doc Wör Mirran
Title: Deadthings In Love
Label: eMpTy Records Format: Vinyl 7" Catalog #: MT-045 Release Date: April1st, 1988
This one was our second ever vinyl release, and is much more industrial than the first, which was release exactly one year earlier. Six tracks, each ending in a locked groove. This was released in various editions, the first of which was 200 copies in April 1988 that featured our standard booklet stapled into the cover, this time with 12 pages and many of the multicolored printed artworks glued into the booklet. All other editions did not include the booklet. The cover of this edition was designed and handprinted by Joseph B. Raimond including glow in the dark ink. The second edition of 10 copies was released in September 1988 with a clear plastic cover. The third edition was of 100 copies with a hand painted, folded cover, copied onto an official US Army "disposition form", and came in October 1988. Edition four was with a poster cover spray painted and then folded to a 7" cover size, and came in May of 1989 with an edition of 54 copies. Edition five came in April 1990 and featured the record and copy of the cover inserted into a US Army courier envelope. Editions six, seven and eight all came out in November 1993. Edition six was of 50 copies, all of which went to Forced Exposure in the USA. Their logo is printed on the computer generated cover. Edition seven also is computer generated, but not for Forced Exposure, with a different design, and was 70 copies. The final edition eight was of 25 copies and came in a folded version of the glow and the dark cover but without the booklet. 559 pressed in total on black vinyl, each with the edition number written on the label by hand. Featured Joseph B. Raimond, Bernard H. Worrick, Patricia, Donna, Allen Shain, Denise Kusiak, Ralf Lexis, Peter Schuster, John Eberly and Rich Ferguson.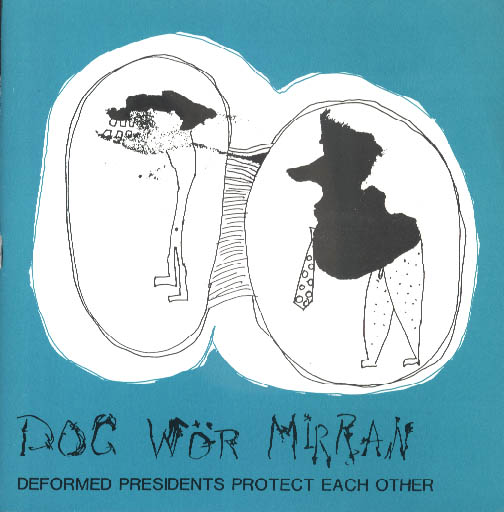 Artist: Doc Wör Mirran
Title: Deformed Presidents Protect Each Other
Label: Musical Tragedies Format: Vinyl 7" Catalog #: Tragedy For Dee Too (MT-144) Release Date: August 1st, 1991
Two long, experimental tracks on this piece of black vinyl. As usual, a nice 16 page booklet is integrated into the cover. Recorded in 1987 and released in 199, it features, Joseph B. Raimond, Bernard H. Worrick, Dave Fanning (of the Apostles/Unit), John Waddingham, Peter Schuster, Patricia, Paul Weinmann, John Eberly, Allen Shain, Denise and Deanne Kusiak, plus the one and only Fraulein Niemand. 500 pressed.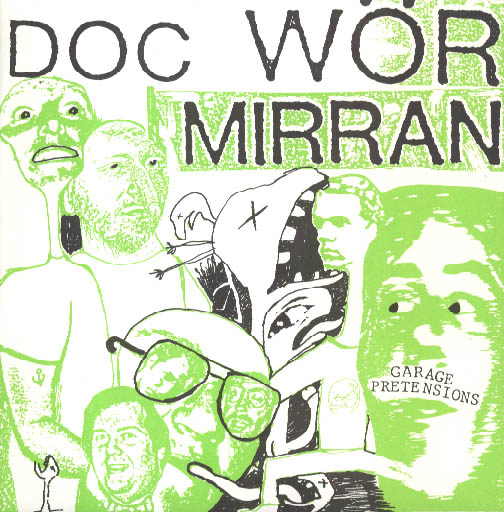 Artist: Doc Wör Mirran
Title: Garage Pretensions
Label: Musical Tragedies Format: CD/Vinyl 7" Catalog #: Tragedy When I'm Sixty Four (MT-192) Release Date: July 5th, 1993
A milestone for DWM, this EP was their first ever CD release, and also the only release ever to come out on two different formats. In keeping with their tradition of featuring famous friends, this release includes the talents of two members of M. Walking On The Water, Markus Jansen and Axel Ruhland, as well as the recorded debut of the two SubPop Records owners Bruce Pavitt and Jonathan Poneman (reading a poem for Blake!). Also, on the vinyl version is a cartoon drawing of "Fat Freddy" by none other than Gilbert Shelton and Rip Off Press! Andy Martin of the Apostles/Unit drew the back comic. Other input from Joseph B. Raimond, Bernard H. Worrick, Peter Schuster, Ralf Lexis, Denise Kusiak, Andropovski, Rich Ferguson, Emil Beaulieau, Adrian Gormley, John Eberly, Bob Bolish, Frank Abendroth, Allen Shain, Artur Bandalan and .mario. Both formats include a 12 page booklet. The CD has a blue and black cover, the vinyl a light green and black cover and is pressed on yellow and blue striped vinyl. Some of the singles were prepared with special hand copied covers, some of which were copied onto gold sticker paper and others onto grey paper, and yet others have been copied backwards! 500 singles pressed and 700 CDs.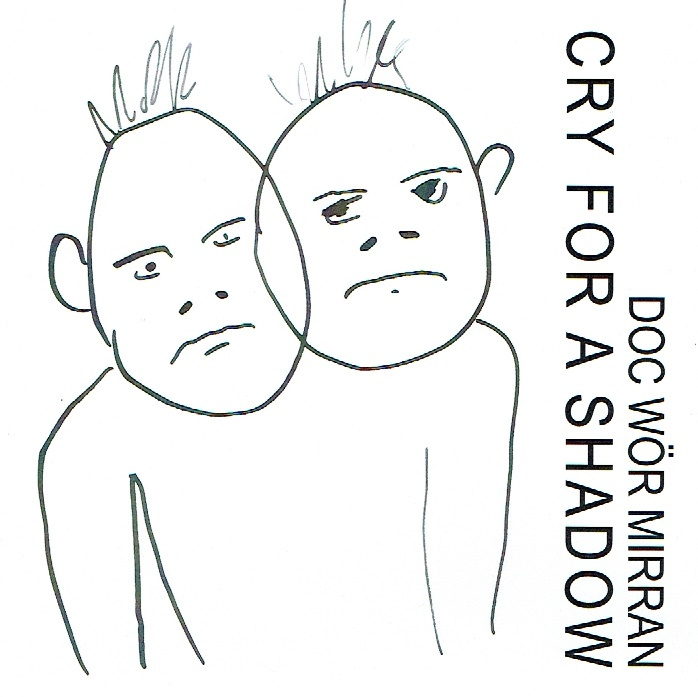 Artist: Doc Wör Mirran / The Beatles
Title: Cry For A Shadow
Label: Empty Records Europe Format: Vinyl 7" Catalog #: MT-565 Release Date: May 14th, 2017
Hard to imagine that it would be possible to release a split single with the Beatles, but this offficial release has a very long, dark story. It started at the end of the 90s, when our friends over at Moloko + Records asked DWM to submit a Beatles cover song for their planned Bealtes tribute 7" box set. Not knowing which song to cover, DWM's Joseph B. Raimond and Ralf Lexis went ahead and recorded three, "Cry For A Shadow" from very early in the Beatle's career, "Tomorrow Never Knows" from the height of Beatlemania, as well as "Free As A Bird", one of their two bonus songs for their lengthy Anthology series and one of the last Bealtes tracks that will ever be recorded. Moloko + liked all three tracks and planned to include them on their box set, but then that was the last DWM ever heard about the project, and it was never released. Since then, these tracks have been refered to as DWM's "Abbey Toad" recordings. Fast forward to around 2010, and MT Undertainment gets offered the orignal Beatle's recording of "Cry For A Shadow" to officially license. Originally planned to be a sawblade shaped single in the Musical Tragedies series of sawblade shaped vinyl records, the other artist was planned to be the Tater Totz, the punk supergroup led by Pat Fear of White Flag, and featuring members of Sonic Youth, Red Cross, among many others. From this point on, bad luck and tragedy kept this release from ever seeing the light of day, as Pat's health problems delayed the recording of the Tater Totz for years. Then, finally recorded, Pat died suddenly weeks before mixing the final track. MT Undertainment, still planning to use the wonderful cover art Past organised for the release as well as a rough mix of the track that Pat sent just before his death, then set about trying to release the single together with Munster Records of Spain, but after sending them the tracks for mastering, Munster pulled out of the project without comment. A crowdfunding effort produced very little capital to have the record pressed, and neither Sonic Youth nor Red Cross even answered emails asking them to help find support for this project. The final blow came after the company that normally shapes the records quadrupled the price of shaping the records frome one day to the next. At this point, MT Undertainment, remembering the three lost DWM "Abbey Toad" tracks, realized the opportunity presented in releasing a split single of the original Beatles recordings of "Cry For A Shadow" with the DWM cover version of the same track on the flipside. DWM then wrote to Klaus Voormann, the orignal artist who designed the Beatles "Revolver" album cover, and he agreed to let supply the cover art for the Beatle's side of the single. Two limited editions of the release are available. Our friends over at EBÚ's Music have co-released a limited, numbered edition of 50 copies of this record in a rice-paper, hand stamped sleeve including extra graphic artwork by Joseph B. Raimond. Also, .kolektiv23. have designed a limited edition of 23 numbered copies of the vinyl single packaged in a black bubble bag with an additional cassette of the two tracks plus extra, signed artwork by Joseph B. Raimond. In total, 300 records were pressed on black vinyl.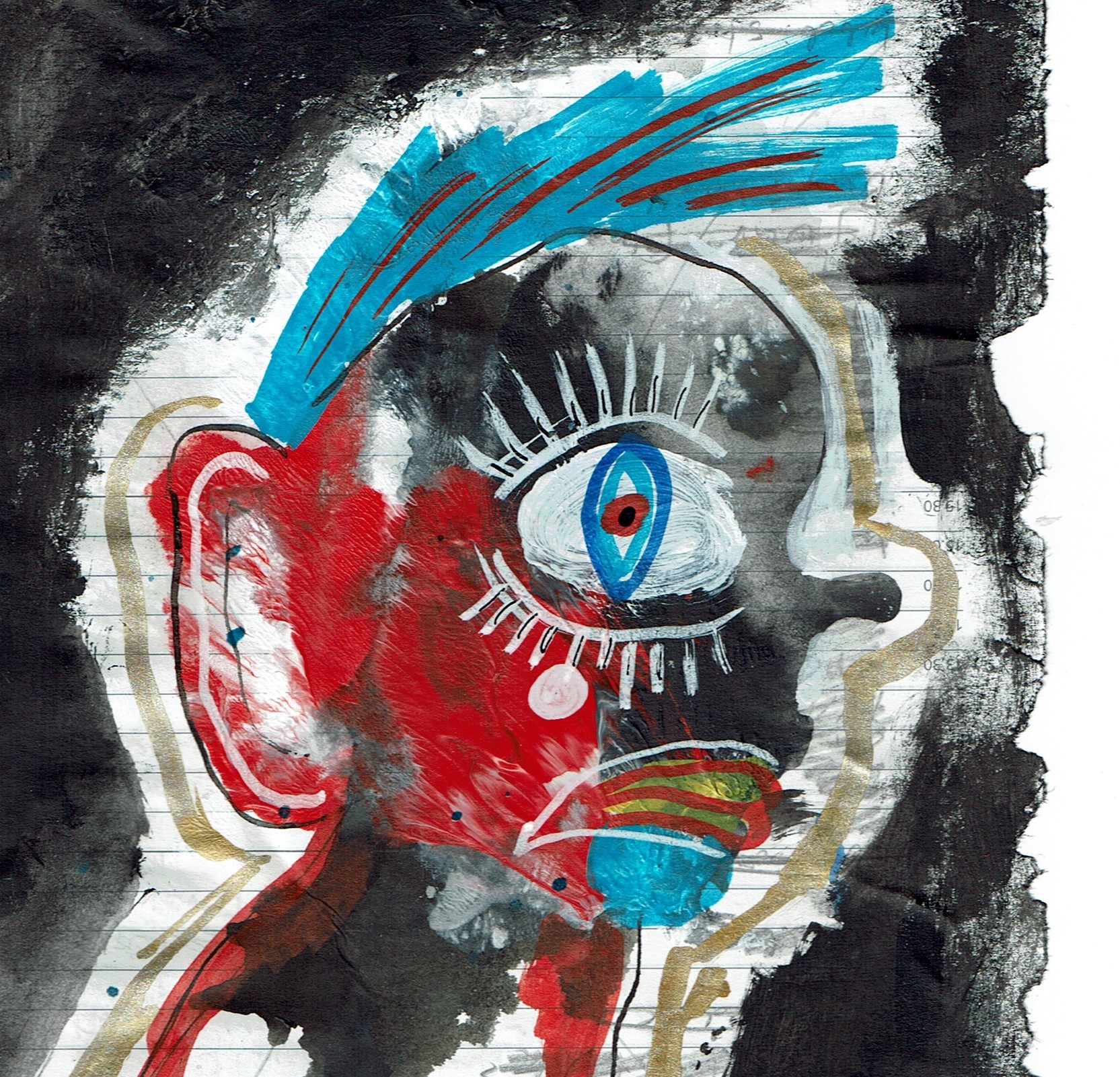 Artist: Doc Wör Mirran
Title: Ancient Future
Label: Marginal Talent Format: Picture Vinyl 7" Catalog #: MT-616 Release Date: July 31st, 2018
Quickly recorded and released (something DWM is not known for!), "Ancient Future" is a one sided picture disc vinyl single, limited edition of up to 23 copies. Available only here through our DWM homepage, or through our discogs or Facebook sites, each ordered copy has the buyer's name and the copy number included on the white back of the single and is also hand-signed in silver ink. Featuring Adrian Gormley, .rizla23., Joseph B. Raimond, Michael Wurzer, Stefan Schweiger, Licht-ung and Ralf Lexis. Cover by Joseph B. Raimond, hand-made packaging and stamped lettering by .kollektiv 23.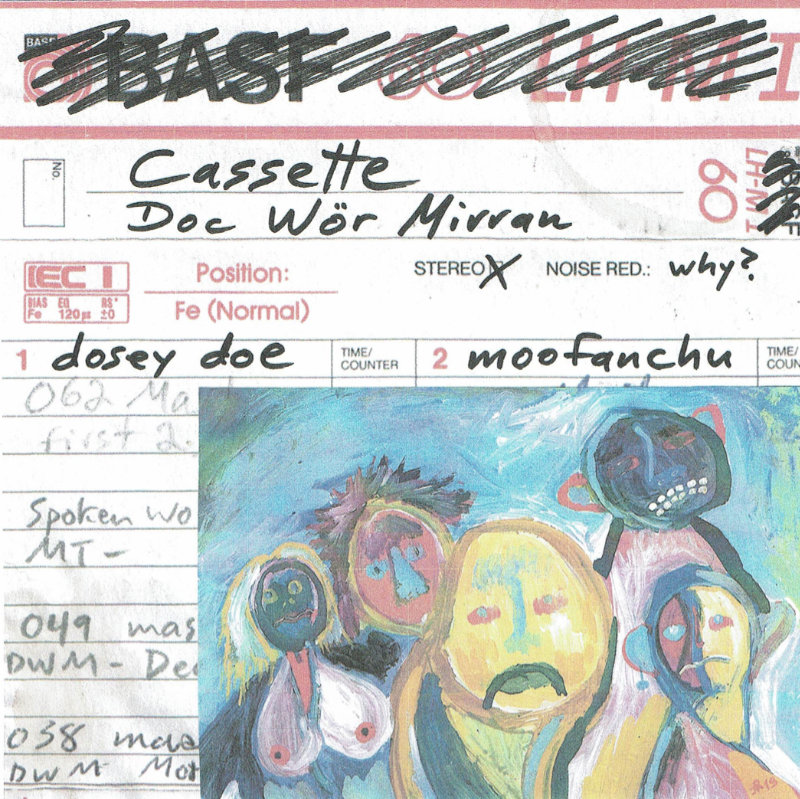 Artist: Doc Wör Mirran
Title: Cassette
Label: Marginal Talent Format: Vinyl 7" Catalog #: MT-631 Release Date: July 31st, 2018
This little project sort of evolved out of our "Historical Obscurity" series of CDs that feature rerecorded and remixed tracks from our very first recordings. Originally planned as part of that series, it ended up with a dynamic of its own, so we decided to make a small single with the tracks. Playable at any spead, it features several old recordings taken from mostly cassette releases, plus newly recorded material, all mixed together into a stew of weirdness. Limited edition of 23 copies on clear vinyl with cassette labels as labels. Featuring Adrian Gormley, Joseph B. Raimond, Michael Wurzer, Stefan Schweiger, Bernard Worrick, Frans de Waard, Frank Abendroth, Matt McNeil and Ralf Lexis.